You are here
Jerusalem should unite, not divide — King
His Majesty meets German defence minister over ties, regional challenges
By JT - Jan 14,2018 - Last updated at Jan 14,2018
His Majesty King Abdullah meets German Defence Minister Ursula von der Leyen in Amman on Sunday (Photo courtesy of Royal Court)
AMMAN — His Majesty King Abdullah on Sunday received German Defence Minister Ursula von der Leyen at Al Husseiniya Palace over bilateral relations and regional challenges, according to a Royal Court statement .
During the meeting, which was attended by HRH Crown Prince Hussein, His Majesty's talks with von der Leyen focussed on cooperation of military and defence fields.
His Majesty expressed his appreciation for the support Germany offers to Jordan enabling it to implement development programmes and to cope with the burdens resulting from regional crises, the statement said.
The latest regional developments, particularly the Palestinian issue and Jerusalem, were also tackled at the meeting, during which His Majesty stressed that that Jerusalem issue must be settled within the framework of a comprehensive solution that should lead to the establishment of an independent Palestinian state with East Jerusalem as its capital.
The King also emphasised that Jerusalem is supposed to be a city that "unites" and does not "divide", and it is the key to achieving peace and resolving conflicts and political crises in the Middle East.
His Majesty pointed out that the international community should support Palestinians and work with the US administration to reach a just and lasting solution to the Palestinian issue.
The meeting, which continued over a lunch banquet attended by members of the German parliament accompanying the minister, focused on the developments related to the war on terrorism. The two sides stressed the importance of intensifying cooperation and coordination among all regional and international players concerned within a holistic strategy to address the terrorism threat and its impact on the security and stability of the region and the world.
For her part, von der Leyen expressed her country's appreciation of Jordan's role, under the leadership of His Majesty, in efforts to address regional issues, thanks to the country's wise and rational policy. She stressed Germany's confidence in Jordan and its willingess to provide support and cooperation to the Kingdom in various areas.
The minister stressed that her country is looking forward to playing a more active role in the region, especially as the refugee crisis have shown how close Europe is to the region and Africa and the impact of the refugee influx on the continent.
The meeting was attended by Royal Court Chief Fayez Tarawneh, Chairman of the Joint Chiefs-of-Staff Lt. Gen. Mahmoud Freihat, Director of the Office of His Majesty Jafar Hassan and the delegation accompanying the German defence minister.
Also on Sunday, Freihat received von der Leyen and the accompanying delegation at the Jordan Royal Air Force command, the Jordan News Agency, Petra, reported.
Freihat and von der Leyen discussed ways to enhance bilateral relations and the partnership between the two countries.
During his welcoming speech, Freihat expressed his appreciation to receive military aid from Germany (see separate story).
Related Articles
Dec 11,2016
AMMAN — His Majesty King Abdullah on Sunday met with German Minister of Defence Ursula von der Leyen, the Jordan News Agency, Petra, reporte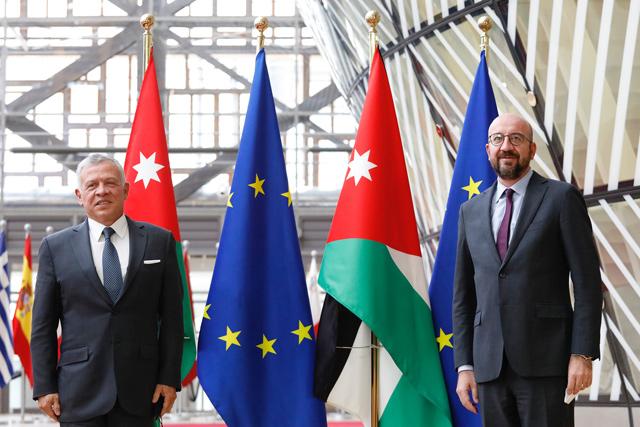 May 06,2021
AMMAN — His Majesty King Abdullah on Wednesday held two separate meetings with European Council President Charles Michel and European Commis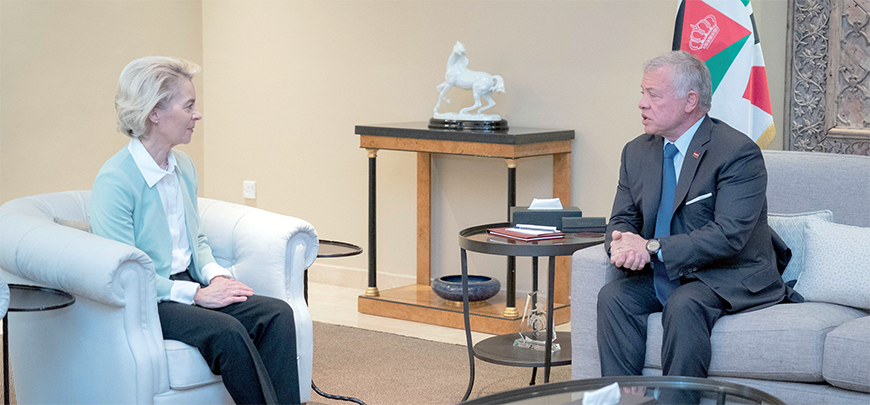 Nov 20,2023
AMMAN — His Majesty King Abdullah on Sunday received European Commission President Ursula von der Leyen, as part of the intensive efforts to