You are here
Jerusalem Patriarch, church leaders thank King for support during recent crisis
By JT - Mar 02,2018 - Last updated at Mar 02,2018
Christians visit Church of Holy Sepulcher, which was closed to protest Israeli authorities' plan on the taxation of churches in Eastern Jerusalem, after it was reopened on Wednesday, in occupied Jerusalem, on Thursday (Anadolu Agency photo)
AMMAN — Greek Orthodox Patriarch of Jerusalem Theophilos III has thanked His Majesty King Abdullah on behalf of himself, the patriarchs and heads of the churches in Jerusalem, and the Council of Churches in Jordan, for the help and support His Majesty provided to the Christian community in the region during the recent crisis, a Royal Court statement said.
In a letter sent to King Abdullah, the Custodian of Jerusalems Muslim and Christian holy sites, following the reopening of the Church of the Holy Sepulchre after Israel suspended a bill to tax church property, Patriarch Theophilos III said that His Majesty's defence of religious freedom and his efforts to ensure that the status quo in Jerusalem is preserved have been crucial in the ongoing attempts to guard and protect the Christian presence in the region, especially in the holy city of Jerusalem.
"Your [the King's] steadfastness, both personally and through Your Majesty's government, is highly appreciated and we pledge our continued commitment to peace, reconciliation, and co-existence in our beloved Holy Land and throughout the Middle East," the Patriarch said in his letter.
Christian leaders took the rare step of closing the Church of the Holy Sepulchre in occupied Jerusalem on Sunday at noon in a bid to pressure Israeli authorities into abandoning the measures to tax the churches' property, Agence France-Presse reported.
The Jerusalem church built at what many consider the holiest site in Christianity remained closed for three day, the longest such closure since 1990.
Christian leaders decided to reopen the church after Israel on Tuesday suspended tax measures they oppose, according to AFP.
"On Our behalf, on behalf of the Patriarchs and Heads of the Churches in Jerusalem and on behalf of the Council of Churches in Jordan, as well as Our clergy, our faithful and the many thousands of pilgrims who visit this region every year, We wish to express to You our gratitude for the help and support that You have given to us in the recent crisis that faced the Christian community of our region," the Patriarch's letter read.
Related Articles
Apr 10,2016
AMMAN — His Majesty King Abdullah has issued a Royal Benefaction (makruma) to provide for the restoration of Jesus' Tomb in the Church of th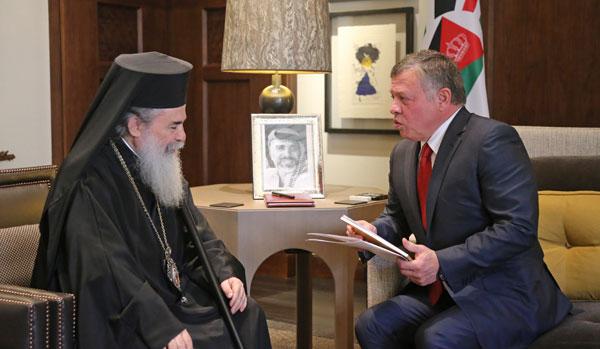 Apr 17,2016
AMMAN — His Majesty King Abdullah on Sunday discussed Jordan's efforts to protect Jerusalem's holy sites with Theophilos III, patriarch of t
Feb 06,2018
AMMAN — Orthodox Patriarch of Jerusalem Theophilos III on Tuesday renewed the church's allegiance to His Majesty King Abdullah, the Custodia
Newsletter
Get top stories and blog posts emailed to you each day.