You are here
JAEC eyes production of 400 tonnes of yellowcake annually — Toukan 
By JT - Mar 18,2023 - Last updated at Mar 18,2023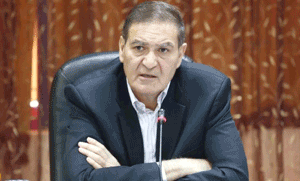 AMMAN — Jordan Atomic Energy Commission (JAEC) Chairman Khaled Toukan on Saturday said that the commission has made remarkable scientific and technological achievements, which are attested by the International Atomic Energy Agency and global atomic energy forums.
Toukan stressed that Jordan is working in line with the vision and directives of His Majesty King Abdullah towards the transfer, localisation and possession of nuclear energy and harnessing it for peaceful purposes, according to a JAEC statement cited by the Jordan News Agency, Petra.
The Kingdom has made great strides over the past years towards the goals and aspirations that the Kingdom seeks to realise in the future, Toukan said.
He said that the commission pursues its efforts through the uranium mining project for the production of yellowcake, while moving ahead with exploration in central Jordan through a specialised Jordanian task force to produce 400 tonnes of yellowcake annually, and ultimately to 800 tonnes.
Expert estimates put uranium ore in central Jordan at about 42,000 tonnes of yellowcake, he said, adding that international standards are being followed in the development of the uranium mining project to guarantee all requirements are met and risks and returns are calculated.
Toukan said that the JAEC, with all its facilities and programmes, is an "outstanding" scientific institution and serves as an "advanced" global platform for scientific research and nuclear training.
Mohammad Shunnaq, director general of Jordan Uranium Mining Company (JUMCO), said that the company's experts and specialised personnel pursue their endeavour to develop the uranium project in the central region to exploit uranium resources.
He said that JUMCO, which was established in 2013 to explore, mine and utilise uranium and thorium or any other nuclear minerals, such as zirconium and vanadium, has adopted the best international practices and standards in the exploration, extraction studies and industrial design processes.
Newsletter
Get top stories and blog posts emailed to you each day.