You are here
Israeli occupation's actions in Palestine amount to state terrorism — Tarawneh
Lower House speaker heads delegation to Parliamentary Assembly of the Mediterranean in Athens
By JT - Feb 20,2020 - Last updated at Feb 20,2020
Lower House Speaker Atef Tarawneh speaks during the 14th Parliamentary Assembly of the Mediterranean in Athens on Thursday (Petra photo)
AMMAN — Actions of the Israeli occupation in Palestinian territories constitute state terrorism, Lower House Speaker Atef Tarawneh said on Thursday.
Tarawneh made his remarks while heading a representative delegation participating in the 14th Parliamentary Assembly of the Mediterranean (PAM), held in the Greek capital Athens, the Jordan News Agency, Petra, reported.
The speaker affirmed Jordan's adherence, under the leadership of His Majesty King Abdullah, to its constants regarding the Palestinian issue, foremost of which are the Hashemite Custodianship over Islamic and Christian holy sites in Jerusalem, the establishment of the Palestinian state and the right of refugees to return and compensation.
Achieving security and stability in the region, he said, begins with parallel steps to combat terrorism and extremism, and the return of the Israeli occupation to abiding by international legitimacy resolutions.
"We in Jordan believe in peace as an option, but we feel let down as we see the bias of the US administration to the occupation and its recognition of the annexation of the lands of the occupied Syrian territory, the Golan Heights, and the recognition of Jerusalem as the unified capital of the occupying power," Tarawneh said.
The US bias towards Israeli actions, he added, will only contribute to perpetuating conflict and tensions in the region, affirming Jordan's adherence to the two-state solution as a safe road that guarantees regional security and stability and calling on PAM members to push for the two-state solution.
He also called on parliaments to pressure their governments to reject any settlement that undermines Palestinian rights, urging them to push for the establishment of a Palestinian state with East Jerusalem as its capital and the right of refugees to return and compensation, while continuing support for UNRWA.
In regards to the war on terrorism, Tarawneh highlighted His Majesty King Abdullah's call at various forums for unifying efforts in anti-terror front.
"Terrorism is not only confronted militarily, but with a holistic approach on the security, social and cultural levels, and since 2015 His Majesty has held the Aqaba meetings in Jordan in order to unify these efforts," he added.
Regarding the Syrian crisis, Tarawneh stressed the importance of ending all forms of external interference in Syria and strengthening efforts towards a political solution in a way that guarantees the unity of its land and people, Petra reported.
He affirmed Jordan's adherence to the peaceful solution advocated by King Abdullah since the early years of the crisis in Syria.
The speaker also stressed Jordan's support of Iraq, to work steadily to enhance its stability and security, maintain its unity and political independence and address all attempts to interfere in its internal affairs and tamper with its security.
With regard to the Libyan issue, Tarawneh noted: "We look forward to reaching satisfactory political solutions for the various Libyan parties through dialogue, so as to achieve security and stability for the people of Libya, and contribute to rebuilding its institutions."
Related Articles
Feb 22,2020
AMMAN — The Parliamentary Assembly of the Mediterranean (PAM) on Friday honoured Lower House Speaker and President of the Arab Inter-Parliam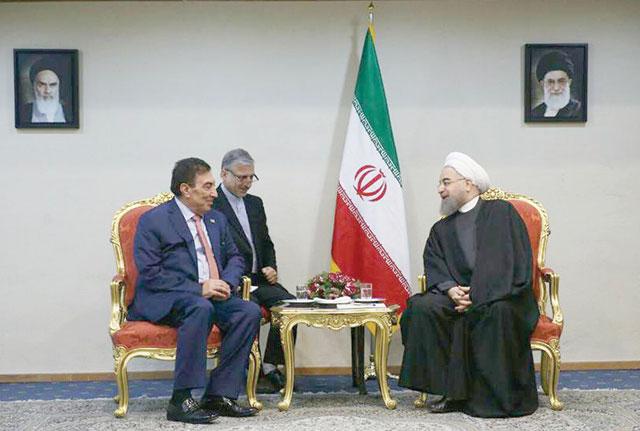 Feb 22,2017
AMMAN — Iranian President Hassan Rouhani on Wednesday stressed the importance of Jordan's role in finding a political solution to the Syrian
Jan 26,2020
AMMAN — Lower House Speaker Atef Tarawneh on Sunday warned against infringements of Palestinians' legitimate rights.During a Lower House ses