You are here
Iraqi military 'to kill, not export' terrorists ­­— ambassador
Souhail commends Jordan's efforts in supporting Baghdad's fight against terrorism, hosting refugees
By Dana Al Emam - Jul 16,2017 - Last updated at Jul 16,2017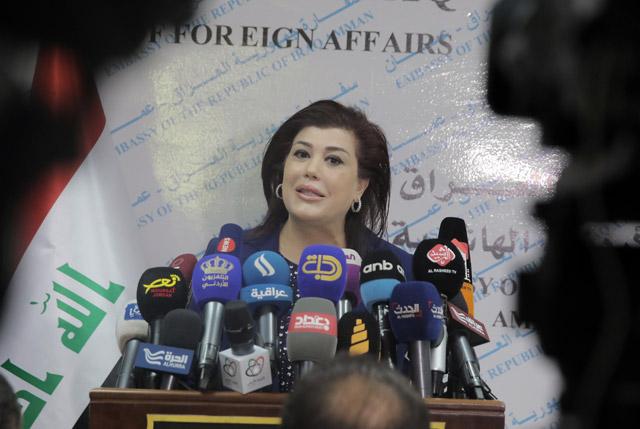 Iraqi Ambassador to Jordan Safia Al Souhail speaks at a press conference in Amman on Sunday (Photo by Osama Aqarbeh)
AMMAN — Jordan's leadership and people have played a "significant role" in supporting Iraq's fight against terrorism, which ultimately led to liberating Mosul from the Daesh terrorist group, Iraqi ambassador to Jordan, Safia Al Souhail, said on Sunday.
The two countries will continue to build on their political, military and intelligence cooperation, the diplomat told the press in a meeting marking the victory in Mosul.
Last Sunday, Iraqi Prime Minister Haider Al Abadi announced victory against the Daesh extremist group in Mosul, the second-largest Iraqi city and a proclaimed "caliphate" for the group over the past three years.
Souhail commended Jordan's efforts in hosting displaced Iraqis, adding that Iraq and Jordan are working bilaterally and within the framework of regional and international coalitions to restore Iraq's safety and security.
Iraq has fought the terrorist group in Mosul on behalf of the world and was determined "to eradicate" its members, who exceeded 25,000 in number, Souhail said, adding that the Iraqi military strategy sought "to kill, not export" terrorists, as "a favour to humanity and the world".
She added that the Iraqi military, which comprises soldiers from "all sects and backgrounds", will soon carry on with its military operations to liberate and reaffirm its sovereignty over the entire country, starting with the towns of Ninawa and Tal Afar.
Meanwhile, she said liberating Mosul resulted in the internal displacement of some 2 million citizens, in addition to thousands of displaced Iraqis across the region and the world, adding that Iraqi authorities are working to facilitate the safe return of those willing to return to their homeland.
The ambassador noted that providing the conditions for Iraqis' return requires international collaboration.
Souhail underlined that rehabilitation programmes are currently taking place for children recruited by Daesh, as well as women who were sexually abused, in partnership with the United Nations and European countries.
Related Articles
May 19,2016
AMMAN — Jordan and Iraq are in constant cooperation and coordination regarding the ongoing operation to free Rutba, an Iraqi town across the
May 21,2016
AMMAN — Preparations are under way to hold a meeting for the Jordanian-Iraqi joint committee this year.In a statement sent to The Jordan Tim
Dec 05,2017
AMMAN — Iraqi Ambassador in Amman Safia Al Souhail on Monday refuted a statement attributed to her country's Foreign Minister Ibrahim Al Jaa
Newsletter
Get top stories and blog posts emailed to you each day.