You are here
Interior minister calls for legal framework to regulate tribal customs
By JT - Nov 05,2015 - Last updated at Nov 05,2015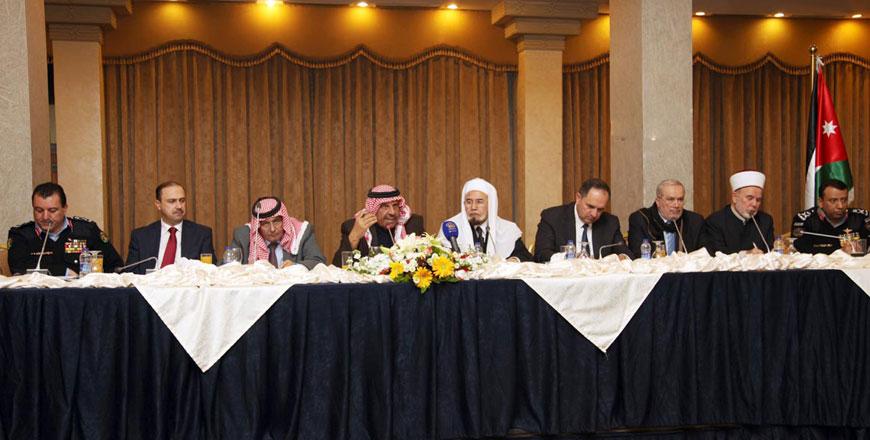 AMMAN — Interior Minister Salameh Hammad on Thursday stressed the importance of arriving at an agreement on legal measures to be respected in cases of tribal issues and conflicts to safeguard social harmony and to ensure respect of the rule of law.
At a meeting with tribal figures and representatives, Hammad noted that violations and unacceptable acts are sometimes committed under the pretext of tribal norms and customs, stressing that there should be a binding agreement on legal measures to be observed in such issues.
In the presence of several ministers and security officials, he said reconciliation should be reached on tribal-related issues and serious offences, including honour crimes and the killing of someone from one's own tribe, the Jordan News Agency, Petra, reported.
Measures such as the payment of blood money or diyeh and when and how that should be paid must be regulated and agreed on, Hammad said.
Stressing that tribes are a major component of the country's social fabric, he noted that there are 305 unresolved tribal cases, attributing delays in solving some of them to hard-line positions and exaggerated demands.
The interior minister said some hard-line positions in many cases do not conform with Jordanian and Islamic values, stressing the need for steps to ensure such practices are rooted out and eliminated, according to Petra.
Participants agreed that in the cases of serious offences, the jalwa (forced relocation) should be limited to the killer, his parents and sons, if he/she has any, and that should be for one year, with the potential to renew it, in accordance with the case's circumstances.
In tribal law, the term "jalwa" refers to the forced relocation of a tribe if one of its members kills someone without just cause.
Justice Minister Bassam Talhouni, who was present at the meeting, said the agreements reached will be submitted to the Cabinet to be examined and referred to the Legislation and Opinion Bureau and then to Parliament to be deliberated and endorsed.
Related Articles
Jan 19,2016
AMMAN — Forced relocation is likely the fate of entire Jordanian families belonging to a tribe if a relative kills a person from another tri
Oct 13,2015
AMMAN — A number of tribal leaders in Salt signed an honour pact on Tuesday limiting the Jalwa (forced relocation) to the persons listed in
Sep 01,2016
AMMAN — The Cabinet on Thursday approved a draft law amending the 2016 Crime Prevention Law, which targeted provisions governing controversi
Newsletter
Get top stories and blog posts emailed to you each day.