You are here
Indian programme hones skills of 50 Jordanians over three years
By Khetam Malkawi - Feb 03,2014 - Last updated at Feb 03,2014
AMMAN — The Indian Technical and Economic Cooperation (ITEC) programme has helped more than 50 Jordanians develop their skills and careers over the past three years, according to beneficiaries.
Under the programme, ITEC India shares development experience acquired over a period of seven decades by hosting nominees from several countries, including Jordan, and offering them training in their fields of work.
"After taking part in this programme, I had the courage to look for a job better than the one I had before I went to India to receive advanced training," said Suleiman Shouha, who works in the field of performance auditing.
Shouha said taking part in a specialised programme in India through ITEC helped him develop his work skills.
"I used to work at the Aqaba Special Economic Zone, and when I returned from India, my manager tasked me with evaluating our programmes based on what I learned," he told The Jordan Times at a reception on Sunday evening, adding that this paved the way for him to change his job and move to a more senior position.
Osama Azzam, who took part in an ITEC programme in July 2013 in the field of performance and management, also said he benefitted from the course.
"I had firsthand experience in India… a unique one, as they have an automated and integrated system for evaluating the performance of management," noted Azzam, who works at the USAID-funded Fiscal Reform project.
Implementing such an automated programme enables enterprises to easily evaluate their performance, an experience that he would love to see implemented in Jordan.
For Nader Salameh, another ITEC programme participant, the experience was different.
"Yes I benefited a lot from the course I took in India, but it also was a chance for me to meet the woman I am married to now," he noted.
Salameh, an area manager at Image Technologies Company, added that there were participants from different countries in the course he took about entrepreneurship, and this offered a chance to exchange expertise.
India's Ambassador to Jordan Radha Ranjan Dash said the programme shares his country's experience in the fields of economic development, human resources, IT, science, financial management, and labour and employment with candidates from the ITEC member countries.
Speaking at Sunday's reception, held to celebrate ITEC day, Dash said the programme is about cooperation and partnership for mutual benefit and has contributed immensely to capacity building and human resources development.
The ambassador added that the ITEC programme, fully funded by the government of India, offers unique training courses, both civilian and defence, in different centres of excellence in India.
"Every year, nominees from friendly countries are invited for training modules encapsulating a wide and diverse range of skills and disciplines," he said, adding that the ITEC programme also provides an opportunity for candidates to study and learn about India's culture, heritage and diversity.
The government of India offered 25 slots to Jordan last year, and the same number this year, Dash said.
"I'll recommend increasing the number for Jordanians, because the Jordanians find it very useful."
up
71 users have voted, including you.
Related Articles
Oct 31,2017
AMMAN — Tens of Jordanians who attended the Indian Technical and Cooperation (ITEC) Programme joined on Tuesday to celebrate the opportunity
Sep 24,2016
AMMAN— The "sky is the limit" for the Kingdom's cooperation with India, a Jordanian official said on Thursday at an event to mark Indian Tec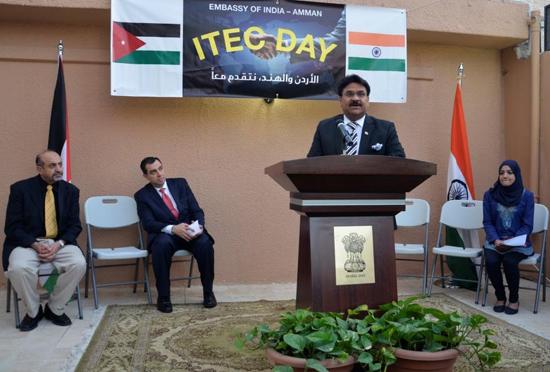 Sep 19,2015
AMMAN — India's embassy on Thursday held a ceremony marking Indian Technical and Economic Cooperation (ITEC) Day, in the presence of Jordani
Newsletter
Get top stories and blog posts emailed to you each day.