You are here
Indian embassy celebrates ITEC day with promise to keep sharing know-how with friends
By Abeer Numan - Sep 19,2015 - Last updated at Sep 19,2015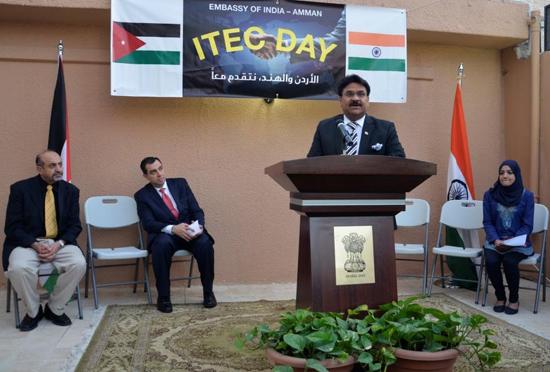 India's Ambassador to Jordan Anil Trigunayat addresses participants at a ceremony marking ITEC Day in the presence of Planning Minister Imad Fakhoury (Photo courtesy of the Indian embassy in Amman)
AMMAN — India's embassy on Thursday held a ceremony marking Indian Technical and Economic Cooperation (ITEC) Day, in the presence of Jordanian officials and ITEC alumni, who commended the quality of training under the ITEC programme.
"India has always believed that it should share what it has and what it learns with its friends, the developing countries," Ambassador Anil Trigunayat said at the ceremony, pointing out that the programme was launched on September 15, 1964 by India's first prime minister Jawaharlal Nehru. Since then, September 15 has been celebrated as ITEC Day.
Thirty Jordanians will be able to benefit from ITEC scholarships this year, while Minister of Planning and International Cooperation Imad Fakhoury, whose ministry coordinates cooperation with the Indian side in this regard, said Jordan will push for the number to go up during a high-profile visit by Indian officials to Jordan, expected for the fourth quarter of this year.
"We are going to be stubborn to increase the seats," he said, highlighting the importance of strengthening technical cooperation, especially South-to-South cooperation.
The minister described such training as "critical in building the capacity of the public sector in many fields", pointing out that Jordan will work to deepen its historic partnership with India, at all levels.
He added that Jordan is also interested in discussing country-focused training to bring trainers to Jordan to maximise benefits, in this regard, especially in areas where India can assist in achieving the goals of the major components of the economic blueprint "Jordan 2025" which was launched in May this year.
ITEC training covers different specialisations, ranging from IT to small-scale business, finance and even defence, according to the ambassador.
Taking the podium at the ceremony, several ITEC alumni expressed their gratitude for the programme, which they said provided them with an opportunity to acquire practical knowledge and at the same time learn about India's culture.
One of these graduates was Nimer Haddadin, currently the Ministry of Agriculture's spokesperson, who said his dream to visit India came true through the ITEC programme during which he visited historic sites in the subcontinent and learned about its policies, parliament and rich civilisation.
Another alumnus, Loai Al Keswani, shared similar views and expressed his respect and appreciation for the opportunity to receive a two-month training in quality management in 2008.
Suleiman Al Shouha said his four-week programme in performance and auditing "covered all I needed and helped me achieve progress in my career".
Other participants voiced hope that the Planning Ministry would succeed in its efforts to increase Jordan's slots and expand the age limit.
MPs from the Friends of India Society at the Lower House were also among the attendees. MP Amneh Gharaghir explained that the society, launched around a month ago, seeks to boost the Indo-Jordanian political and economic relations.
Over the past 50 years, India has provided technical training to 161 countries through fully funded scholarships, according to the Indian embassy in Amman.
Related Articles
Oct 29,2017
AMMAN — The Indian embassy in Jordan will celebrate the Indian Technical & Economic Cooperation (ITEC) Programme on Tuesday, according t
Oct 23,2014
A good number of Jordanians dispatched to attend training courses in India over the past few years said they had second thoughts about the trip all together. 
Oct 31,2017
AMMAN — Tens of Jordanians who attended the Indian Technical and Cooperation (ITEC) Programme joined on Tuesday to celebrate the opportunity
Newsletter
Get top stories and blog posts emailed to you each day.