You are here
Gov't ready with by-law on distribution of constituencies
By Mohammad Ghazal - Mar 29,2016 - Last updated at Mar 29,2016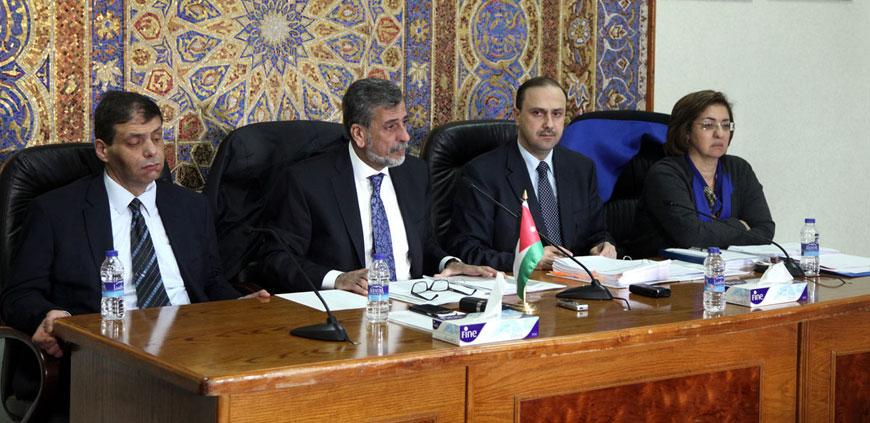 From right: Social Development Minister Reem Abu Hassan, Media Affairs and Communications Minister Mohammad Momani, Political and Parliamentary Affairs Minister Khaled Kalaldeh and Senator Muhannad Azzeh attend a press conference to explain new pieces of legislation drafted by the government in Amman on Monday (Petra photo)
AMMAN — The Cabinet has endorsed the validating reasons for the draft electoral constituency by-law, which divides the country into 23 constituencies, down from 45 under the previous elections law, the government announced on Monday.
The move follows a Royal Decree endorsing the Elections Law for 2016 that reduced the number of Lower House seats from 150 to 130, of which 15 are allocated as a women's quota.
The draft by-law, which will be sent to the Legislation and Opinion Bureau, divided the capital into five constituencies.
Amman's first electoral district will have five seats, the second will have six seats.
The capital's third electoral district will have six seats, while the fourth will have four seats and the fifth electoral district will have seven seats, Minister of Political and Parliamentary Affairs Khaled Kalaldeh said at a press conference on Monday.
Irbid Governorate was divided into four electoral districts. Six seats were allocated for the first district, four for the second, four for the third and five for the fourth district, according to the minister.
Zarqa Governorate was divided into two districts. Eight seats were allocated for the first district and four for the second.
Al Balqa Governorate was divided into one district and 10 seats were allocated for it.
Ten seats were also allocated for Karak Governorate, which will be dealt with as one constituency.
The same goes for Maan Governorate, which will have four seats.
The governorates of Mafraq, Tafileh, Madaba, Jerash and Ajloun are also considered as one electoral district, each of which will have four seats, according to Kalaldeh, while Aqaba, also one constituency, will have three seats.
Each of the Badia's three districts will have three seats.
"The new by-law will ensure that candidates tailor their electoral platforms for a wider audience that candidates will not only rely on their relatives, tribes, or neighbourhoods to win. They will have to do more to encourage citizens to vote for them," Government Spokesperson Mohammad Momani said at the presser on Monday.
"We expect the upcoming parliamentary elections to be historic by all means," said Momani, who is also minister of state for media affairs and communications.
The notorious one-person, one-vote electoral system, which was introduced in 1993, is now a history, under the 2015 law, which is based on an at-large voting system, in which candidates can run for parliamentary elections on one large multi-member ticket.
Eligible voters will have a number of votes equal to the number of seats allocated for their district in the Lower House.
During the elections, each eligible voter has to vote for a multi-member list as a whole and for individual candidate of their choice from the same ticket.
Related Articles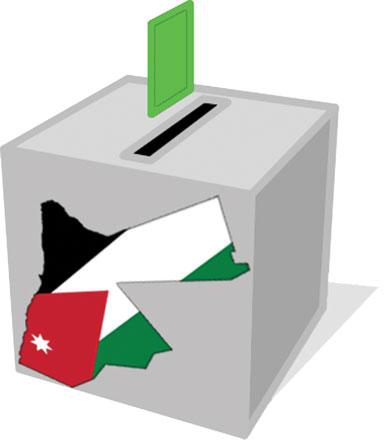 May 23,2016
AMMAN — The Council of Ministers on Sunday endorsed the draft electoral constituency by-law, the Jordan News Agency, Petra, reported.The dec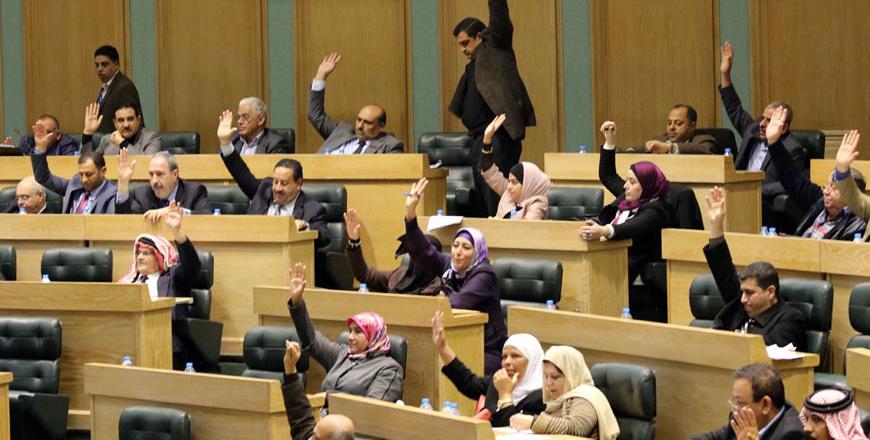 Feb 23,2016
AMMAN — The Lower House on Tuesday passed the draft 2015 parliamentary elections law with minor changes following six marathon sessions that
Mar 06,2016
AMMAN — The Lower House on Sunday endorsed the Upper House's amendments to the 2015 elections law, the last in a reform-oriented legislative