You are here
Gov't 'committed to legal amendments to protect women' — minister
UNDP study recommends legislative reforms to ensure women's access to justice
By Laila Azzeh - Aug 30,2016 - Last updated at Aug 30,2016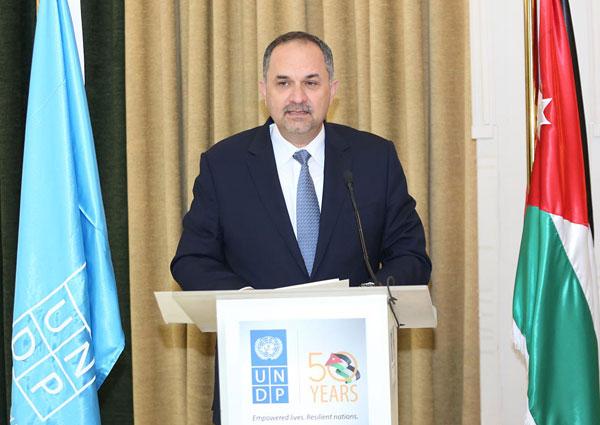 Justice Minister Bassam Talhouni delivers a speech at the first National Consultations on Gender Justice in Jordan in Amman on Tuesday (Petra photo)
AMMAN – The government is committed to ensuring better legal protection for women and is working to amend family, personal status and labour laws, Justice Minister Bassam Talhouni said on Tuesday.
Opening the first National Consultations on Gender Justice in Jordan, which is focusing on the outcomes of a UNDP review on how laws affect women, Talhouni called for more programmes to raise awareness of human rights, particularly among women.
"Gender-based violence is still one of the most dangerous issues that haunts societies and affects women, not only in the Middle East, but throughout the world," said the minister.
UNDP Country Director Zena Ali Ahmad agreed, saying that despite Jordan's achievements, there are still a number of impediments that hinder women's ability to reach jobs at the decision-making level.
Citing "discriminatory" laws enacted in the Kingdom, she noted that women under 30 are unable to carry out simple transactions without a male guardian.
"Women are also facing obstacles that limit their access to legal justice due to factors related to financial capabilities and the society's perception of women who resort to court," said Ahmad.
'Women and elections'
Political and women rights experts agreed that women in Jordan are "not presented as political creatures that are able to take the lead".
During a session held as part of Tuesday's event, Salma Nims, the secretary general of the Jordanian National Commission for Women, noted that in order for women to excel in decision-making positions, they should first be present in the labour market.
Financial resources and the "poor" belief in women's abilities are the main obstacles facing female candidates today, Nims said.
Political Development Minister Musa Maaytah said women's political participation is "very weak" in Jordan, noting that women have historically played an important role in entrenching democracy and civil rights.
"Empowering women to have a greater role is the prerequisite for fighting terrorism," noted the minister.
On the other hand, he said that increasing the women's quota in the Lower House to 15 seats is a "step forward".
Samar Hajj Hassan from the Independent Election Commission indicated that society is still unaware of the importance of women's political participation.
"In addition, women's economic dependency constrains their political participation…. There is definitely a need to change the mindsets," she said.
At the conference, the UNDP presented the outcomes of its review of policies, laws and strategies, undertaken to assess women's access to protection and the obstacles facing Arab countries on the road to gender justice.
The Family Protection Law, Penal Code, Crime Prevention Law, Personal Status Law and the Landlord and Tenants Law are the main pieces of legislation that should be revised in order for Jordan to improve gender justice, according to the study.
The main changes needed to the Family Protection Law include protection from marital rape, extended protection for unmarried girls and women, and prioritising the right of women to restraining orders instead of pushing for conciliation in disputes.
As for the Penal Code, the study underlined the need to abolish Article 308, which allows charges to be dropped in rape or molestation cases if the perpetrator marries the victim.
"We should note here that in Arab countries, non-partner violence is neither recognised nor detected…. Domestic violence in the region is still considered a private matter," noted Marta Vallejo Mestres, human rights and justice specialist at the UNDP's regional hub.
She added that countries can have a "fantastic" family law, while the rights to divorce and custody remain minimal.
The review's recommendations included repealing Article 98, which allows the reduction of sentences in so-called honour crimes, as well as the amendment of Article 292 to recognise marital rape and legalise abortion in rape cases.
The UNDP also underlined the need to end discrimination between women and men in passing their nationalities to their children and spouses.
It also called for the removal of provisions under which a widowed woman loses her right to some forms of property inherited from her husband if she remarries.
In relation to the Personal Status Law, the study cited the need to eliminate the guardianship system for adult women and to increase the minimum age at which discretionary permission to marry may be granted by a Sharia court to at least 16 years.
Legal expert Noor Imam underlined the importance of the two-day consultation in identifying loopholes and comparing laws and social norms.
"Even if we have good laws, cultural constraints are still hindering gender justice in the region," she said.
up
76 users have voted, including you.
Related Articles
Mar 08,2015
Justice through the rule of law and ensuring women's access to justice is the key component for true gender equality, academics, policy experts and women's rights groups said on Sunday during a national event to marking International Women's Day.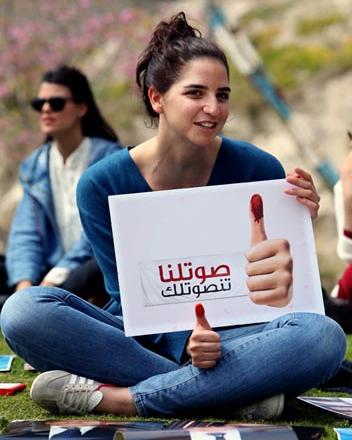 Apr 01,2014
Lebanon's parliament on Tuesday passed a law making domestic violence a criminal offence, after a years-long campaign by civil society groups in a sectarian Arab country steeped in conservativism.
Feb 18,2017
AMMAN — Jordan faces many challenges in its efforts to maintain its achievements in promoting women's rights, Jordan's Representative to the
Newsletter
Get top stories and blog posts emailed to you each day.