You are here
Global threat of terror brings Jordan, Japan together — King
By JT - Jan 19,2015 - Last updated at Jan 19,2015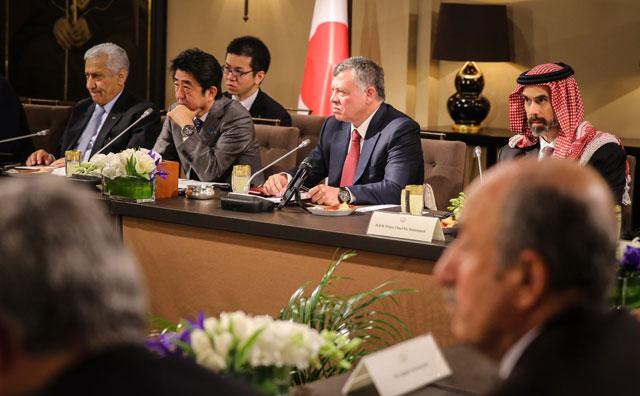 AMMAN — His Majesty King Abdullah and visiting Japanese Prime Minister Shinzo Abe on Sunday held talks at Al Husseiniya Palace on means to boost bilateral ties and regional developments.
Welcoming the Japanese premier, whose country has recently offered the Kingdom a soft loan of $100 million and a grant totalling approximately 2.4 billion yen ($1 is around 118 yen) to implement development projects, King Abdullah said: "We greatly appreciate your presence and the presence of your delegation not only in Jordan, but the tour that you are doing through the region," noting that Japan has had a historical presence in this region, "one as an honest broker".
He said Japan has always been looked at in high esteem because of the positive role it has played for the peoples of the region.
"We have all greatly appreciated the historic support that Jordan has received from your country and your people, and — even more recently — the support that your country has given us through our challenges of [hosting] Syrian refugees, as well as your role that you have played in the peace process."
His Majesty added: "I know that there are many challenges facing the region, but again I think this new level of partnership between Japan and Jordan will strengthen the relationship between our two countries as we face the next level of challenges."
Emphasising the common challenges, King Abdullah said that what brings Japan and Jordan together today is "the global threat of international terrorism, and I believe that working hand-in-hand, this will solidify our relationship, and this is the challenge of this generation; and I believe that there is a lot of work to do between our two countries — as with many countries around the world — and I think this will actually be of tremendous significance, Your Excellency, you, as prime minister, are in the right place at the right time for your country and for the world."
For his part, Abe highlighted Jordan's reputation at the world level as a country that exerts utmost efforts to foster security and stability, and plays a key role in confronting terrorist groups, in addition to its humanitarian assistance to Syrian refugees.
He also stressed Japan's support for efforts to achieve Middle East peace, voicing his country's concern about the current stalemate in the peace process and the disruption of negotiations between Palestinians and Israelis.
He said he would urge the two sides to move forward with the peace process, as he was expected to meet top Palestinian and Israeli officials during his tour, which has also taken him to Egypt, according to a Royal Court statement.
Turning to the economy, he underlined the fact that a large business delegation accompanied him on the visit attests to Japan's commitment to developing its economic relations with Jordan.
Moreover, the Japanese premier commended Jordan's contribution to international peacekeeping efforts, according to the statement.
King Abdullah underscored the importance of Abe's visit and the significance of the accompanying delegation, adding that this cooperation would lead to establishing key projects in the sectors of energy, transport, water, technology and vocational training.
King Abdullah expressed his appreciation for Japan in empowering the Kingdom to achieve sustainable development through partnerships and joint investments which can help create jobs for Jordanians and mitigate poverty.
The talks, attended by senior officials from the two countries, addressed unprecedented regional developments and challenges, and ways to deal with them, especially the dangers of terrorism and extremism, which he said necessitate an ongoing international effort to combat the phenomenon.
On the Middle East peace process, King Abdullah stressed the centrality of the Palestinian issue, noting that unless a just and a viable solution is reached, the region will continue to see tension, and rising extremism and violence.
Regarding Syria, the King stressed Jordan's support for a political solution to the crisis. His Majesty highlighted the various burdens borne by Jordan as a result of the large number of Syrian refugees in the Kingdom. He stressed the importance of the international community's support for Jordan to help it pursue its humanitarian mission, extending his appreciation of Japan for its assistance in this field.
Speaking to the Jordan News Agency, Petra, Planning and International Cooperation Minister Ibrahim Saif said the visit of the Japanese delegation had two dimensions-one regarding ties at the official level, while the other had to do with cooperation among private sector representatives in the two countries.
"We have concluded negotiations with the Japanese to obtain a $100 million loan, with a grace period of seven years and with a low interest rate to support and finance the budget deficit," the minister said.
Saif added that the Japanese prime minister also announced that his country was extending $28 million in additional assistance to support certain sectors in Jordan as well as the Kingdom's efforts in hosting Syrian refugees in the year 2015.
In addition, Saif said, Jordan outlined to the visiting delegation several projects that are "historically of interest to Japan", including the "peace corridor" between Northern and Sourthern Shuneh in the Jordan Valley, the rehabilitation of the King Hussein Bridge over the Jordan River linking Jordan and Palestine, and some industrial projects.
As for the second dimension of the visit, the minister said the Japanese business leaders expressed interest in investments in Jordan as they consider the Kingdom an oasis of peace that enables them to access neighbouring markets.
Abe and the accompanying delegation left Amman later in the day at the conclusion of the two-day official visit to the Kingdom.
Members of business delegations
Following is a list of the representatives of the Japanese and Jordanian business delegations which took part in the talks held over two days between Jordan and Japan:
Japanese delegation
NEC Corporation Board Chairman — Kaoru Yano (IT sector)
Mayekawa MFG. Co, Ltd. Chairman — Yoshiro Tanaka (Food sector)
Mitsubishi Corp. President and CEO — Ken Kobayashi (Trading sector)
Fujifilm Holdings President and CEO — Shigehiro Nakajima (Manufacturing sector)
Chiyoda Corp. Executive Chairman — Takashi Kubota (Engineering sector)
Japan Gasoline Company Corp. Chairman Emeritus of JGC Group — Yoshihiro Shigehisa (Engineering sector)
Dai Nippon Construction President and Representative Director — Hiroki Sato (Infrastructure sector)
Spiber Inc. Director and Executive Officer — Kazuhide Sekiyama (Manufacturing sector)
Nippon Export and Investment Insurance Chairman and CEO — Kazuhiko Bando (Independent administrative agency)
Mitsui Representative Director and Executive VP — Shintaro Ambe (Trading)
Japan Bank for International Cooperation Executive Managing Director and COO — Koichi Yajima (Banking)
Kikkoman Corporation Executive Adviser — Mitsuo Someya (Food sector)
Bank of Tokyo — Mitsubishi UFJ, Ltd. CEO for EMEA — Masato Miyachi (Banking)
Sumitomo Mitsui Banking Co., Ltd. Managing Director and Head of SMBC EMEA Division — Masahiko Oshima (Banking)
Mizuho Bank Managing Executive Officer — Atsushi Narikawa (Banking)
Sumitomo Corporation Executive Officer and General Manager for Middle East — Yoshihiro Fujiura (Trading)
ITOCHU Corporation Executive Officer — Hiroyuki Fukano (Trading)
Marubeni Corp. Executive Officer and Regional CEP for ME and Africa — Masataka Kuramoto (Trading)
Sojitz Corporation Executive Officer — Masashi Shinohara (Trading)
Japan External Trade Organisation Executive VP — Tsuneyuki Kato (Independent administrative agency)
Jordanian delegation
Capital Bank of Jordan Vice Chairman — Bassem Al Salem (Banking)
Arab Bank CEO — Nima Sabag (Banking)
Izzat Marji Group Chairman — Basil Marji (Industrial)
Nuqul Group Vice Chairman — Ghassan Nuqul (Industrial)
Petra Engineering Industries Co. Vice Chairman — Omar Abu Wishah (Industrial)
Chairman of Amman Chamber of Commerce and Haidar Murad and Sons Investments Group — Issa Haidar Murad (Commercial)
Hikma Pharmaceutical — Salah Al Mawajdeh (Pharmaceutical)
Specialty Hospital Chairman — Fawzi Al Hammouri (Healthcare)
Haddadin Engineering Co. for Contracting CEO and Owner — Khalaf Haddadin (Engineering and Construction)
Manaseer Group — Mouen Qutadada (Engineering and Construction)
Jordan Hotel Association — Michael Nazzal (Tourism)
Jordan Phosphate Mines Co. PLC Chairman — Amer Al Majali (Mining)
Arab Potash Co. Chairman — Jamal Al Sarayrah (Mining)
Jordan Carbonate Company Chairman — Ayman Hatahet (Mining)
Jordan Oil Shale Company Chairman — Bassam Qaqish (Energy/Mining)
Kawar Energy Chairman — Karim Kawar (Energy)
EDAMA Chairman — Maher Matalqa (Energy / Re-energy)
Intaj CEO — Jawad Abbasi (IT)
Jordanian Businessmen Association — Hamdi Al Taba'a (Various sectors)
Related Articles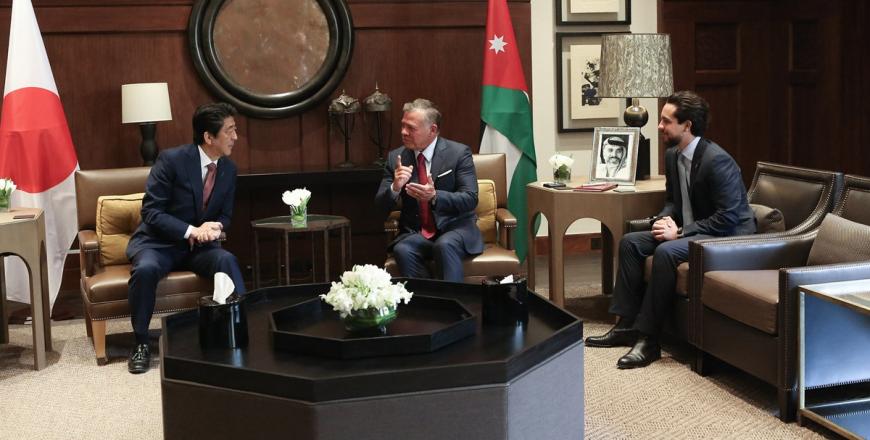 May 01,2018
AMMAN- His Majesty King Abdullah and Japanese Prime Minister Shinzo Abe, in talks held on Tuesday, agreed to upgrade Jordanian-Japanes
Apr 28,2018
AMMAN — Japanese Prime Minister Shinzo Abe, along with his wife, is scheduled to start an official visit to the Kingdom on Monday, the Jorda
Aug 08,2018
TOKYO — The Japan External Trade Organisation's (JETRO) senior official has recently said that studies are underway to identify the main sec
Newsletter
Get top stories and blog posts emailed to you each day.