You are here
Germany offers MA scholarships for Syrian refugees, host communities
By Raed Omari - Feb 18,2015 - Last updated at Feb 18,2015
AMMAN — The German Academic Exchange Service (DAAD) has announced new scholarship opportunities for Syrians residing in Jordan and members of host communities.
The new programme is "unique", according to DAAD officials, as it targets Jordanian and Syrian graduates wishing to pursue their master's degrees at public universities in the Kingdom.
The programme targets highly qualified Jordanian and Syrian academics with the necessary qualifications for MA studies (thesis track) at the German-Jordanian University, Yarmouk University, Jordan University of Science and Technology and the University of Jordan, according to DAAD.
Scholarships are offered to qualified applicants in all fields of study with the exception of medicine, veterinary medicine, dentistry and law, DAAD officials told The Jordan Times, but did not specify the number of beneficiaries.
Jordanian applicants must be residents of an area affected by the influx of refugees.
Syrian applicants must have been holders of Syrian citizenship or permanent residence in Syria before 2011 and they should be residing in Jordan at the time of application and registered as refugees with the UNHCR, according to DAAD. The full scholarship includes tuition fees to complete an MA degree in Jordan, support to cover the cost of living, preparatory university courses if necessary and an accompanying side training programme for all scholarship holders.
The deadline for applications is March 5, 2015. Information about the programme's mandatory online registration, application procedures and required documents are available at: www.daad.de/newperspectives.
Related Articles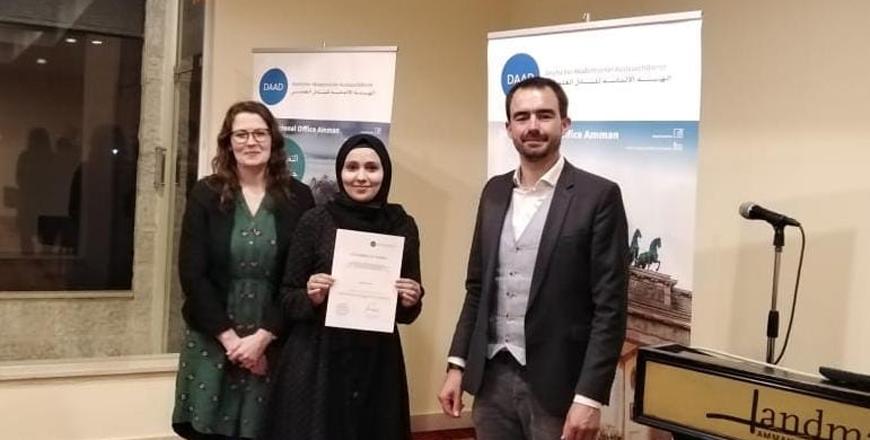 Apr 14,2022
AMMAN — The German Academic Exchange Service (DAAD) on Tuesday organised a ceremony to celebrate the awarding of scholarships to nine Jordan
Oct 04,2015
AMMAN — The German Academic Exchange Services (DAAD), in collaboration with the German Agency for International Cooperation (GIZ) and the Ge
May 12,2018
AMMAN — More than 100 Jordanian and Palestinian former scholarship holders of the German Academic Exchange Service (DAAD) and the Alexander