You are here
German scholar studies flint tools in Northern Badia
By Saeb Rawashdeh - Jan 23,2023 - Last updated at Jan 23,2023
In this undated photo a flint nodule with cortical scrapper blank with negatives is seen (Photo courtesy of Bernd Müller-Neuhof)
AMMAN — Flint tools, also called cortical scrapers, found in the Northern Badia offer clues to animal husbandry during the Early Bronze Age although they provide scarce information about socioeconomic activities prevalent in that period, according to a German archaeologist.
Cortical scrapers are a very typical tool type from the Late Chalcolithic and Early Bronze Age period — late 5th to early 3rd millennium BE, noted Bernd Müller-Neuhof from German Archaeological Institute in Berlin.
Cortical scrapers appear in almost all lithic assemblages from sites, dating into this period range in the Levant, southeast Anatolia, parts of Mesopotamia and pre-dynastic Egypt, Müller-Neuhof continued.
"Their utilisation seems to be connected with animal husbandry — hide working, maybe sheep shearing etc — but not exclusively, he said.
Until around 25 years ago it was not clear where these tools were produced, he added.
In 1998 researchers Leslie Quintero, Phil Wilke and Gary Rollefson discovered open shaft mines — mainly trench mines — on the northern rim of the Al Jafr basin in southern Jordan, the scholar said.
"Around the same time, Japanese archaeologist Sumio Fujii discovered comparable mines in the western area of the Jafr region while in 2000 Ricardo Eichman and I discovered the first evidence of mining and especially blank production in the Wadi ar-Ruwayshid region in the northeastern part of Jordan," Müller-Neuhof said.
In 2007 and from 2010 onwards he was able to define a mining region in the Wadi Ruwayshid region.
Furthermore, the mines concentrated in three mining districts seem on an altitude between c. 780 and 815 metres above sea level, the archaeologist said.
"Flint seams on lower or higher altitudes have been tested but not exploited. It seems that it was a very quality oriented industry. The activity area [mines, knapping areas and 'waste' areas] cover c. 35 hectare," Müller-Neuhof outlined, adding that mines were "quarry mines", pit mines and trench mines.
"Some trench mines reached lengths of almost 1 km and widths between 10 and 20 m. Pit mining areas had either large extensions or were very small [ a few square metres]," Müller-Neuhof stressed.
Talking about the number of flint mines in the area Müller-Neuhof said that "probably around 50 mines were respectively knapping areas; knapping areas were always in close connection to the mines".
The lithic remains in the mines and knapping areas consisted out of mining and knapping residue, broken and discarded cortical scraper blanks and especially flint nodules with the negatives of detached fan shaped or elongated cortical scraper blanks, Müller-Neuhof said.
"Complete cortical scrapers or scraper blanks have not been identified at these sites," Müller-Neuhof said, adding that the counting of the negatives on the flint nodules in some mining areas and the extrapolation of these numbers revealed that several million of blanks have originally been produced and were exported.
The prehistoric mining activities in the Ruwayshid region were therefore "clearly export oriented", he said.
The scholarly team also documented some camp sites. "In most cases we found some lithic artefacts and some pottery. The pottery was usually very late [Roman-Byzantine and Islamic], from periods in which the mines were not in use anymore. The lithic artefacts cover periods from Late Neolithic to the Chalcolithic/Early Bronze Age," Müller-Neuhof said.
Related Articles
Oct 29,2017
AMMAN — Fortifications and the oldest known dam in the world built around 3,600BC are the main characteristics of Jawa,a site 60km nor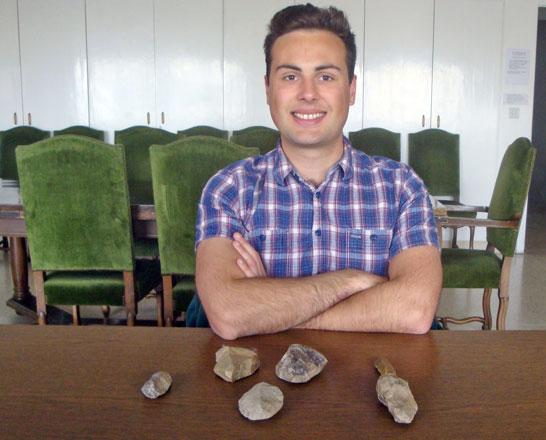 Mar 19,2017
AMMAN — Hundreds of thousands of miniscule stone flakes, some only millimeters in length, the scattered results of the hammering and bashing
Dec 04,2016
AMMAN — Metal production has always been part of human culture and never ceased completely at any historical period, according to scholar Mo