You are here
Geophysicist turns cave discovery into restaurant in Madaba
By Muath Freij - Nov 08,2018 - Last updated at Nov 08,2018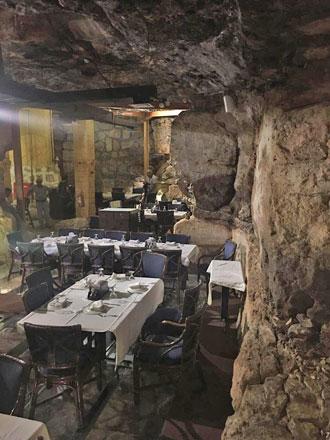 The structure of the cave reveals a certain historical significance, according to its owner (Photo by Muath Freij)
MADABA — Jordanian geophysicist George Haddadin's passion towards educating people about caves and their history prompted him to turn his plans from constructing his own house into building a hub for cave enthusiasts.
Hadaddin said that a coincidence led him into a hidden cave at a plot of land he inherited from his father in his hometown of Madaba.
Out of excitement, Haddadin, who is the former president of the Jordanian Geologists Association, decided to ignore his initial plans and start digging to further explore the hidden cave.
"The structure of the cave that I found made me certain that parts of an old cave of historical significance was found right behind my family's house," he recalled.
The initial plan he had in mind was to open a museum to expose the city's visitors to the history of caves and civilisations that settled in the Kingdom, he said, noting "I wanted to make a museum but people are not interested in reading history so I thought about coming up with a place that serves food and drinks."
"Once people are here, they will be curious to know about the cave's history. We want to make Jordanians and tourists aware of the history of caves and civilisations which have existed here," Haddadin added.
The geophysicist introduced a glass floor to allow people to "feel the natural atmosphere of the place".
Upon entering the cave, visitors are received by Haddadin, who starts discussing with them historical details.
"This place has a soul and it triggers the curiosity of visitors. My role is to answer these questions. Many people do not know about the details of these civilisations and how they lived and built their facilities and residences," he pointed out.
Haddadin said a sense of relief pervades the atmosphere when visitors sit inside the cave.
"I always ask visitors 'how do you feel when you visit this place?' They reply that they feel a positive energy coming in and a negative energy going out," he added, noting that his visitors' feedback reminds him of a moment in history when the person entered caves, searching for security and comfort.
"When humans discovered fire, they entered caves and it ensured them safety," he added, highlighting that they are still at the beginning of cave tourism.
"We have not, yet, reached the stage of cave tourism. We only have two kinds of tourism, religious and entertainment tourism," he claimed.
It took Haddadin 10 years to finish establishing his venue, which he called "Mrah Salameh".
"Mrah means vast area and Salameh was after the name of my late father. He suggested that I should not name the place 'the cave', because the cave means a small area while here it is a vast place," he concluded.
Newsletter
Get top stories and blog posts emailed to you each day.