You are here
GAM to roll out five new Bus Rapid Transit routes Sunday
By Maria Weldali - Mar 18,2023 - Last updated at Mar 18,2023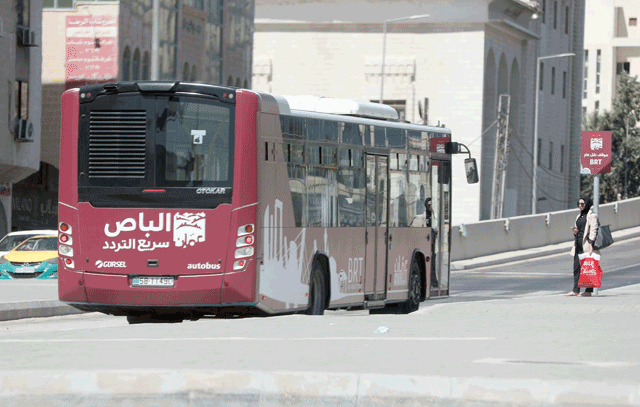 The Greater Amman Municipality is to launch five new Bus Rapid Transit routes on Sunday (JT file photo)
AMMAN — The Greater Amman Municipality (GAM) is to launch five new Bus Rapid Transit (BRT) routes on Sunday as it embarks on investing in and expanding public transport services.
The five new routes include: The station complex-Petra housing, the station-Abu Alanda (Zahra Al Urdun roundabout), Sweileh station-Islamic Hospital, the Museum of Jordan in Al Yadoudah, and station complex-Al Hayat Hospital, according to a GAM statement made available to The Jordan Times.
Amman Mayor Yousef Shawarbeh, in the statement, said that public transport for GAM is regarded as a national strategic project that reflects positively on the lives of people "given being a large gateway to sustainable development".
Rama Idrees, a BRT commuter, said that she has been using Amman Bus for several months now, which has made a big difference for many women like herself when it comes to using public transport.
"It is the easiest and quickest way to move around. It is also affordable, safe and accessible," she said.
Hanadi Romman who is another BRT commuter, told The Jordan Times that BRT has had a positive impact on women who are in "dire need of safe travel without any hindrance". She pointed that "this project has contributed to increasing women's workforce participation and promoting gender equality."
Mahmoud Al Shawabkeh, who used Amman buses a couple of times, told The Jordan Times that "the BRT project is a significant leap in Jordan's public sector development,"
"It is clean, safe and well-maintained," he added.
Newsletter
Get top stories and blog posts emailed to you each day.