You are here
Future of Muslim world is in science, not reminiscence, scholars say
By Dana Al Emam - May 05,2016 - Last updated at May 05,2016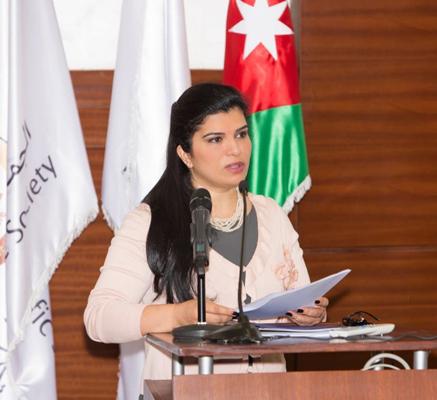 HRH Princess Sumaya delivers a speech at the International Seminar on Islam and Science in Amman on Thursday (Photo courtesy of Royal Scientific Society)
AMMAN — A scientific renaissance in the Muslim world requires a move from boasting about historical achievements to a better employment of science and technology, experts said on Thursday.
Scholars from various parts of the Muslim world participating in the International Seminar on Islam and Science, held at the Royal Scientific Society (RSS), reiterated Islam's encouragement of reading, researching and critical thinking.
Speaking at the opening of the seminar, RSS President HRH Princess Sumaya highlighted the need for a "peaceful reconciliation of progress with faith" despite the difficulties and possible controversy, adding that mediating the friction between faith and future development through science and innovation determines the future.
"If we are to be true to our heritage and our faith, then we must acknowledge one inalienable truth: Knowledge must be free. It must be sought honestly and analysed wisely. It must be unshackled by those who seek ownership of minds through misinterpretation of religion," she said.
Princess Sumaya cited the Great Arab Revolt of 1916, whose centennial Jordan is currently celebrating, as an event that "drew on the power of ideas and the understanding of context that flowed from Al Nahda [renaissance], when great minds poured new life into our interpretation of faith, culture and nation".
Also speaking at the seminar, Athar Osama, founder of Muslim World Science Initiative and director of the Taskforce on Islam and Science project, said there is "very little debate" in the Muslim world around science, "not just the social contract of science, but critical issues at the intersection of science, religion, and society".
"The taskforce project is an attempt to catalyse the important conversation between religion and science, which adopt two ways of knowing the world and its creator," Osama said, highlighting the need for this debate to be generated from within the Muslim world rather than being imposed from outside.
UN Economic and Social Commission for West Asia's Technology Centre Director Fouad Mrad highlighted the role of the Amman-based centre in technology transfer and development in 18 Arab countries, adding that he centre works towards regional integration and cooperation in technology and innovation.
Mrad commended Jordan's leadership, government and people, saying the Kingdom offers a "precious" platform for calm dialogue.
For his part, Moneef Zoubi, director general of the Islamic World Academy of Sciences, said organisations concerned with bridging the gap between science and faith tend to "pay lip service to the intellectual quality of the scientists of the past and the milieu in which they excelled".
He added that a key challenge facing member countries of the Organisation of Islamic Cooperation and scholars today is "how to develop a viewpoint on modern science that is in harmony with Islam [and] yet projects the capacity of modern science to address problems and catalyse socioeconomic development".
Related Articles
Dec 13,2016
AMMAN — HRH Princess Sumaya, the president of the Royal Scientific Society (RSS), on Tuesday welcomed leading international scientists and p
May 03,2018
AMMAN — Christian officials on Monday discussed the past and present situation of Arab Christians during a seminar held under the title "Cha
Jul 16,2017
AMMAN — The Royal Institute for Inter-Faith Studies (RIIFS) has recently concluded a week-long workshop for Muslim and Christian research st
Newsletter
Get top stories and blog posts emailed to you each day.