You are here
French embassy, companies partner to fund Jordanians' scolarships
By Camille Dupire - Jun 27,2018 - Last updated at Jun 27,2018
AMMAN — Public and private organisations and officials from the ministries of higher education and labour on Tuesday gathered at the residence of the French Ambassador in Amman David Bertolotti, to celebrate the awarding of the first scholarships provided to Jordanian students to pursue their education in France.
Co-financed by the embassy and private companies under the new "Embassy/Companies" programme, the scholarship programme aims to meet the commitment of the French ambassador to increase mobility to France and promote the employability of young Jordanians through better adaptability to the needs of the labour market, according to Bertolotti.
"A few months after taking office in Jordan, I decided to review our cooperation in the field of higher education with Jordan to better meet the needs of the market," the ambassador said at the event, adding "therefore, we have actively worked in the area of vocational training and the development of this scholarship programme in partnership with companies is yet another priority area of our work ".
He stressed the businesses' support to higher education as "essential" in terms of funding, expertise and training, calling on companies based in Jordan to strengthen their scholarship programmes.
Among the grants' recipients is Ateff Alrabee, who, after receiving a French degree from the University of Yarmouk and spending ten years working in the tourism sector, will resume his studies to attend the Ecole Supérieure des Interprètes et Traducteurs at the Sorbonne Nouvelle University, one of the most renowned schools for interpreters and translators in Europe.
Serina Dabbah, for her part, will undertake a Master 2 in international management at the Institute for Administration at the University of Poitiers.
Engineering student at the University of Jordan Osama Hussein and architecture student at the University of Yarmouk Abdallah Ibrahim were granted scholarships to attend a summer school training on "smart cities and engineering for sustainable architecture", which will take place in Paris and Troye.
According to official figures, over 250 Jordanians are currently studying in France and a number of Jordanian universities have academic partnerships with French institutions.
Moreover, more than 30 French companies represented in the Kingdom through subsidiaries or industrial or commercial franchises, are directly employing 6,300 Jordanians.
In 2018, the French embassy offered 31 scholarships and short and long-term training to Jordanians.
Related Articles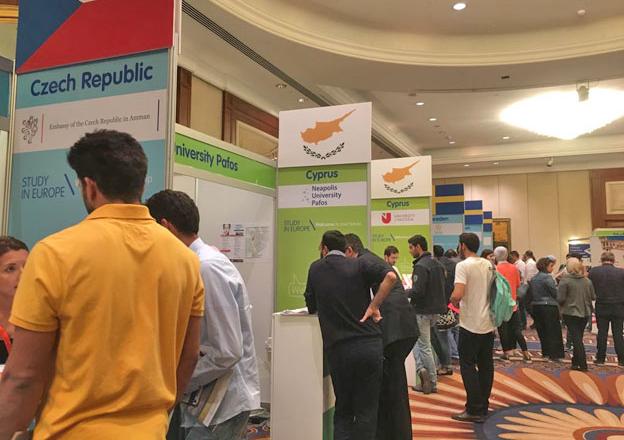 Oct 12,2017
AMMAN — Over 2,000 Jordanian students pre-registered online to attend the Study in Europe Fair to find study abrood opportunities through ar
May 10,2018
AMMAN — French Ambassador to Jordan David Bertolotti on Thursday received 24 Jordanian scholars scheduled to leave to France as part of a ne
May 03,2017
AMMAN — Luminus Group and the French National Association for Adult Vocational Training (AFPA) on Wednesday signed a memorandum of understan
Newsletter
Get top stories and blog posts emailed to you each day.