You are here
France, Jordan sign 250-million-euro grant agreement to support judiciary, water sectors
By JT - Dec 18,2019 - Last updated at Dec 18,2019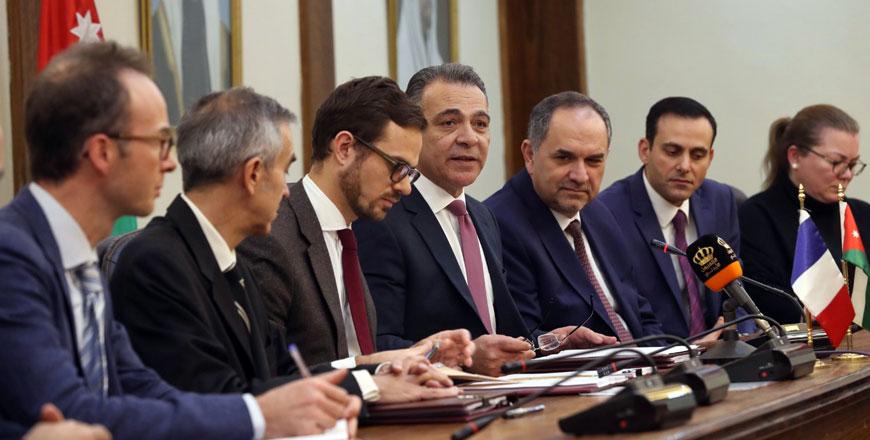 Planning and International Cooperation Minister Wissam Rabadi, Acting French Charge d'Affaires Thierry Caboche and AFD Director in Amman Luc Le Cabellec sign three soft loan agreements totalling 250m euros in the presence of Justice Minister Bassam Talhouni on Wednesday (Photo courtesy of Planning Ministry)
AMMAN — The government and the French Development Agency (AFD) on Wednesday signed three soft loan agreements worth 250 million euros to finance projects to develop the judiciary and water sectors and reconstruct the sewage system in Balqa.
Planning and International Cooperation Minister Wissam Rabadi, Acting French Charge d'Affaires Thierry Caboche and AFD Director in Amman Luc Le Cabellec signed the three agreements in the presence of Justice Minister Bassam Talhouni, according to a Planning Ministry statement.
The first agreement entails a soft loan of 150 million euros, representing the AFD's contribution of the joint loan with the German Development Bank to fund water sector policy development through the general budget.
The amount granted under the agreement will be disbursed in two rounds of 75 million euros each, the statement said, adding that this agreement is the third with the AFD to support water sector development.
The second agreement, worth 40 million euros, will support the justice sector development policy through the general budget. The sum will be disbursed through three batches over the period of 2020-2022.
The deal aims at contributing to developing the judiciary's infrastructure and judiciary procedures through rehabilitating the Justice Palace in Amman to include the courts of first instance in Amman and the economic chamber. Additionally, a new building will be established for the court of appeals near the current Justice Palace.
The third agreement includes funding a sewage project in northeastern Balqa through a soft loan of 60 million euros, with the aim of increasing the system's collection and treatment capacity.
Under the project, the Baqaa water treatment plant will be closed and a new station will be constructed in northeastern Balqa with a capacity of 36,000 cubic metres per day that can be expanded to 54,000 cubic metres per day.
This scheme is expected to serve some 220,000 inhabitants of northeastern Balqa until 2027.
Rabadi and Talhouni expressed the government's appreciation for France's continuous support to vital sectors in Jordan.
For his part, Caboche highlighted the importance of the AFD's assistance in various development fields, which contributes to enhancing the Kingdom's capabilities, primarily in the water and judiciary sectors, among other fields.
Newsletter
Get top stories and blog posts emailed to you each day.