You are here
Fikristan offers inspiration, success stories for younger generation
By Suzanna Goussous - Sep 10,2014 - Last updated at Sep 10,2014
AMMAN — Out of a belief that "success is contagious", Jordanian businessman and social activist Maher Kaddoura is pioneering a programme to bring positive ideas and success stories to inspire people from all around Jordan.
Kaddoura is the founder of the newthink initiative, which regularly holds theatres and festivals, the latest of which was Fikristan (Land of Ideas), to promote entrepreneurship and positivity.
Held over the weekend at the King Hussein Business Park in Amman, Fikristan showcased "inspirational stories" in "an unconventional design", organisers said.
"The festival is not for the 'elite', it's not for a specific group of people. It is for all Jordanians to unite through programmes and planned projects in whatever they are interested in," Kaddoura told The Jordan Times.
The festival, he said, is inspired by the times when Andalusia combined coexistence with success.
"Al Andalus had people from Greater Syria, Yemen, Greece [and other areas], who were Jews and Muslims, and their culture was successful from all aspects. 'Fikristan' is the Jordan that I dream of," he said.
A total of 250 speakers came from across the Kingdom to talk about their success and inspire the younger generation.
Participants had more than 60 sessions over five hours each day to choose from.
"Each session has a different atmosphere and leaves you with a tonne of ideas to think about," said Abdullah Saad, one of the participants.
Kaddoura said the availability of many programmes at the same time simulates life.
"This is about making choices on which course you want to attend, just like the choices people make on a daily basis," he stressed.
"This generation should learn to make choices, because [otherwise] they would have too many programmes and plans going on, but no time for them."
Young entrepreneurs shared their experiences with students and encouraged them to apply to their companies if they had a project in mind but could not secure the needed funds.
Abdallah Absi, an entrepreneur and CEO of the crowdfunding platform Zoomaal, briefed the audience on the programmes Zoomaal is willing to offer to Arab entrepreneurs.
The platform always promotes the hashtags #ArabsAreCreative and #WeDontRideCamels on their website and social media profiles.
Absi said an idea is nothing without a team, and both an idea and a team are nothing without implementation.
The organisers planned the presentations and workshops at the festival with the aim of leaving a long-lasting impact on attendees.
"We are trying to give young Jordanians a destination, not only a one- or two-day lecture on their future plans, with more choices and paths to follow and encourage productivity, entrepreneurship and volunteerism," Kaddoura said.
The festival also included "in-depth sessions" to "guide the young entrepreneurs to the right track and the right companies to work with in the future", he added.
Last year, the festival received some 8,000 visitors, according to Ghaida Hammoudeh, the festival's spokesperson, while around 14,000 people attended the activities this year.
"The event was trending for about two days on social media with 13,000 tweets, and 95 million impressions on Facebook," Hammoudeh added.
Kaddoura said the event combined fun with learning and networking.
"I believe that I own the place and the place owns me. The challenges Jordan faces are my challenges too, we should work together to address them and make our country a better place," he concluded.
Related Articles
Aug 23,2015
AMMAN — More than 40 organisations participated in "spreading new ideas" and raising awareness about empowering young people, women and chil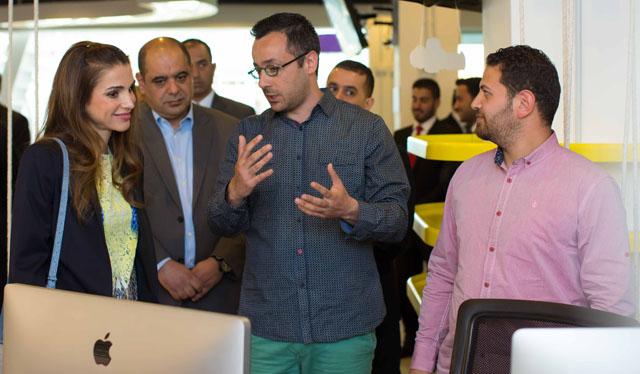 Apr 26,2015
Her Majesty Queen Rania on Sunday visited the Zain Innovation Campus (ZINC) as part of her interest in and continuous support for Jordanian entrepreneurs.
Feb 22,2016
AMMAN — The University of Jordan (UJ) on Sunday organised a "Youth, Innovation and Entrepreneurship Day" for students, aiming to empower the
Newsletter
Get top stories and blog posts emailed to you each day.