You are here
Festival of reading: 22nd Amman International Book Fair kicks off 
By Mays Ibrahim Mustafa - Sep 22,2023 - Last updated at Sep 22,2023
Visitors are seen at the Amman International Book Fair at the Amman International Automobile Hall on Airport Road on Thursday (Photo by Mays Ibrahim Mustafa)
AMMAN — Deputising for His Majesty King Abdullah, Culture Minister Haifa Najjar on Thursday inaugurated the 22nd Amman International Book Fair, which witnesses the participation of over 400 publishing houses from 22 countries.
Rajaa Magdi is a bookseller representing an Egyptian publishing house, which is participating in the fair for the third year in a row.
"It's still very early to judge demand this year, but I am very optimistic, as the previous editions we participated in were all incredibly fruitful," she told The Jordan Times.
Magdi recounted challenges faced by booksellers in Egypt and around the world, which led to an increase in prices over the past few years, including rising production and shipping costs.
"But when we participate in such fairs, we try to offer discounts to the best of our abilities, because our goal goes beyond making a profit. This fair is an opportunity to connect with readers from diverse cultural backgrounds," she added.
The Jordan Times also spoke with Fadia Abd Alkhaleq, who's representing a publishing house from Syria.
"We have been participating every single year since the early editions of the fair," she said.
Abd Alkhaleq divides her visitors into two categories; experienced readers who come with a plan and a list, and beginners who are looking for a place to start.
"My favourite thing to do at these fairs is to help the second type of visitors find that one book, which sparks their curiosity and helps kick off their journey as readers," she said.
Moreover, Abd Alkhaleq agreed that publishing houses around the world are dealing with tough times due to global changes that lead to a hike in paper and energy costs, which reflected on the prices of books.
"However, we do our best to keep our prices within customers reach," she noted.
Inas Al Jarrah is a bookseller, representing a Jordanian publishing house, which is participating in the fair for the eighth year in a row.
"We're hopeful that this edition will be marked by good demand," she told The Jordan Times, noting that the weekend is likely to attract more visitors than the opening day.
Ali Abu Saleema, is a university professor who was visiting the fair with his two children and three nieces
"Each one of them has come here with a very long list of books they plan on finding, and I think our visit has been productive so far," he told The Jordan Times.
His son Ayham said: "My plan is going really well. I have so far bought four books and I have five left to find".
The 16-year-old leads an initiative called "My Book is my Passport", which aims to encourage reading among adolescents in his local community.
"I love reading because it allows me to dive into different worlds and introduces me to the ideas of interesting minds," he said.
The Jordan Times spotted one visitor, Um Yousef, carrying seven books within the first hour of the opening day.
"I have been an avid reader ever since I was a child … it keeps my mind sharp, and allows me to remain curious and interested in the world," she said.
Um Yousef also noted that she will be donating some of the books she purchased to people who can't afford them in her community, especially children.
The fair, which continues until September 30, takes place at the Amman International Automobile Hall on Airport Road.
Related Articles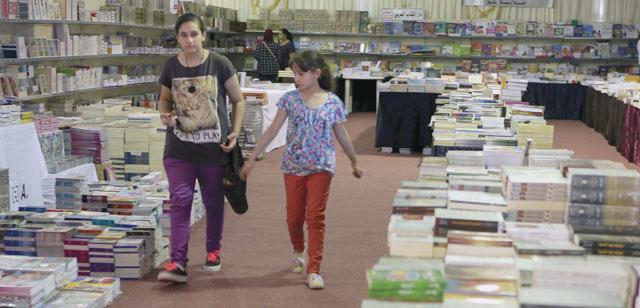 Sep 13,2014
Despite booksellers' complaints of slow demand at the 15th Amman International Book Fair, organisers on Saturday said the event attracted around a quarter-million visitors.
Sep 10,2022
AMMAN — The 21st edition of the Amman International Book Fair concluded on Saturday, featuring 400 Arab and international publishing h
Feb 04,2023
CAIRO — Thousands of Egyptian bibliophiles weave through a labyrinthine display of books, reviving an annual tradition at the Arab wor