You are here
Female engineer represents Jordan at US Women Ambassador Forum
By Camille Dupire - Jun 20,2018 - Last updated at Jun 20,2018
Hiba Shabrouq represents Jordan at the Women Ambassadors Forum in Dallas on June 17 (Photo courtesy of Hiba Shabrouq)
AMMAN — "As much as it is not easy to feel totally comfortable, we must always distinguish between the feeling of being afraid to take a new step, and being extremely excited. Both feelings give you the same symptoms, make sure to know yourself enough," said Hiba Shabrouq, a Jordanian engineer invited to be the Kingdom's ambassador in the Women Ambassadors Forum (WAF) in the United States.
Founded in 2015 to "provide aspiring women leaders from around the world with the tools, knowledge and opportunities to unlock their potential to spark positive change", the WAF 2018 took place in Dallas from June 12-18.
"Not only was I the only Jordanian in the group but, interestingly enough, I was also the only engineer here," Shabrouq, who is a marketing expert at Orange Jordan, told The Jordan Times on Wednesday.
"I am so honoured to be here among these amazing women and I have learned so much throughout this journey. Every day is a new life lesson: from ways to empower women to get 'a seat on the table', techniques to strengthen our leadership skills and to know the principles of change management, to public speaking lessons and skills to influence people without using power," the Jordanian ambassador pointed out.
"The diverse background and nationalities of the 31 ambassadors and speakers, who came from 21 different countries, really created a pool of ideas that completed each other," Shabrouq continued, noting that participants included women from Egypt, Lebanon, USA, Mexico, Jamaica, Kenya, Uganda, Cameroon, China, among others.
The WAF annual event gathers women from various backgrounds, including engineering, information technology, banking, medicine, international relations, law, marketing, …, who share their personal journey to "create an inclusive platform that enables an open dialogue where everyone has a seat on the table – regardless of gender, social, economic, or cultural background- and an equal opportunity to succeed in the said seat," according to WAF.
During the forum, Shabrouq presented "Ozwah", a social project that won a seed grant fund in the Silicon Valley's TechWomen programme last October. "Ozwah uses technological tools to take the hands of Jordanian female orphans through the journey of reaching independency and gaining a good level of education," she told The Jordan Times, explaining "this way, we hope to help female orphans in Jordan reach a better future."
Held under the theme of "Collaborative Disruption", this year's forum included successful women speakers such as Rania Anderson, an executive business coach and author of the book "UNDETERRED", Sheryl Adkins, CMO of Mary Kay, Delfina Grossi, diversity ambassador at Google, Yvonne Trevio, an Olympic athlete and many others, according to its website.
"As women, we struggle in visualising and exposing ourselves in a noticeable way. In one of the workshops by Rania Anderson, I learned that we should start introducing ourselves in the networking world in a different way. She taught us how we should rather start phrasing our job titles in a way that lets the other person ask us 'How?'," Shabrouq pointed out as "one of the many lessons I learned through the event".
The young woman also emphasised on the efforts exerted by the Royal Family to empower youth and women in Jordan, praising the constant support her and her peers have received from Their Majesties King Abdullah and Queen Rania.
Related Articles
Oct 17,2017
AMMAN — Five Jordanian women participating in the TechWomen 17, the biggest gathering for women in technology in the world, held in the US,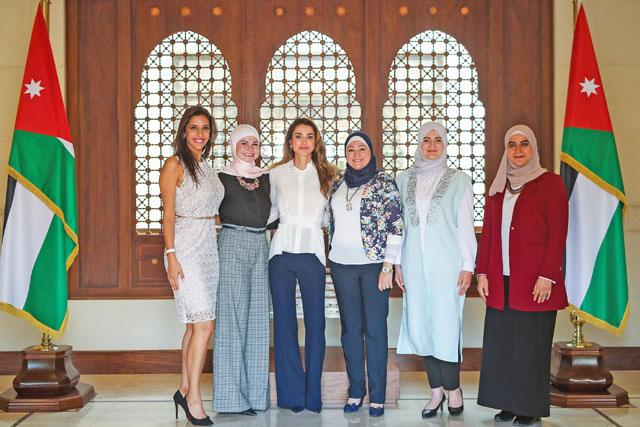 Nov 13,2017
AMMAN — Her Majesty Queen Rania on Monday met with five Jordanian entrepreneurs and businesswomen to congratulate them on their success at T
Oct 18,2018
AMMAN — A non-profit educational organisation dedicated to improving people's public speaking and leadership skills on Wednesday held a one-