You are here
Extremist group 'does not control Iraq border post' — sources
By Taylor Luck , Omar Obeidat , Khetam Malkawi - Jun 23,2014 - Last updated at Jun 23,2014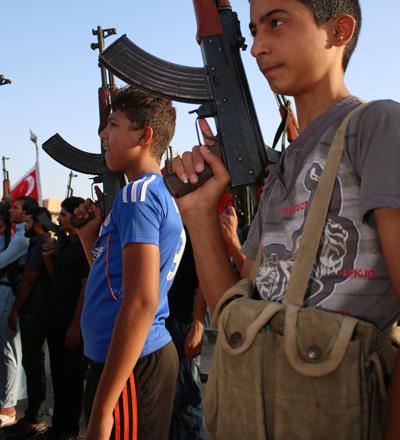 AMMAN — The Kingdom on Monday continued sending military reinforcements to the country's border with Iraq, where business was as usual regarding the flow of passengers and goods, sources said.
Meanwhile, Iraqi tribal leaders based in Jordan confirmed reports that the western Iraq towns adjacent to the border with Jordan are controlled by fighters from Sunni tribes that are "on good terms with Jordan", contradicting reports that the radical Islamic State of Iraq and the Levant (ISIL) took over the border zone.
Officials said that despite the military build-up on the border, no threatening development has been reported up to Monday afternoon.
An informed source told The Jordan Times there had been no infiltration attempts recorded so far.
"However, we beefed up border defences to be prepared to deal with any emergency or any attempt to penetrate the borderline," he said.
Meanwhile, Minister of State for Media Affairs and Communications Mohammad Momani, who is also government spokesperson, told The Jordan Times that "there is no decision to close the border yet, but traffic is limited".
The Agriculture Ministry reported on Monday that Iraq reopened its market to Jordan's vegetable and fruit produce, according to the Jordan News Agency, Petra.
Even on the Iraqi side, the situation is normal, according to an Iraqi driver who arrived in Amman from Iraq earlier Monday (see separate story).
Tribes not ISIL
Sunni tribes took control of a border crossing between Iraq and Jordan late on Sunday after Iraq's army pulled out of the area following a clash with rebels, Iraqi and Jordanian intelligence sources said, as quoted by Reuters.
The agency added that the move came after Sunni militants led by ISIL overran posts further north along Iraq's border with Syria, pursuing their goal to form a "caliphate" straddling both countries that has raised alarm across the Middle East and in the West.
Sources familiar with the situation interviewed by The Jordan Times confirmed that Anbar was taken over by Sunni tribes and not ISIL.
An Iraqi tribal leader who lives in Amman said those who controlled the border crossing between Jordan and Iraq are fighters affiliated with the Sunni tribes, who fell out with the Shiite-led government of Nouri Al Maliki, noting that these tribes have good connections with the Kingdom's government and people.
This was echoed by Jordanian lawyer and activist Ziyad Najdawi, who has close ties with leaders of Sunni tribes in Iraq and has served as Saddam Hussein's attorney during the late leader's trial.
He told The Jordan Times that the Iraqi employees working at the border crossing were "secured by Sunni tribesmen from Anbar, who took over the area without the use of force" after it was vacated by the Iraqi army.
Quoting Iraqi tribal leaders he is in contact with, Najdawi added that there is no "single Iraqi soldier in the area between Anbar and Baghdad (around 800km)".
Islamists call for unity
The perception that the border post and nearby town was taken by ISIL triggered an angry reaction by Islamists across the board in Jordan.
They called for a "united front" to prevent the jihadist group from reaching Jordanian soil.
In a statement issued on Monday, the Muslim Brotherhood denounced ISIL's reported seizure of the Turaibil/Karama crossing late Sunday as a "direct threat and danger to Jordan", warning that the brewing conflict in Iraq has potential spillover into the country.
The moderate Islamist Centrist Party was also quick to denounce the rapid gains of ISIL, claiming that the former Al Qaeda affiliate's approach to enforcing an Islamic state is "un-Islamic".
"It is on all segments of Jordanian society to unite and reject this extremist group which is trying to carry out abuses in the name of Islam," the party said in a statement on Monday.
Anti-ISIL jihadists
Jordan's hard-line Salafist movement, Al Qaeda's largest supporter and recruiter for jihadist groups, refused to issue public statements regarding the perceived border gains made by the Islamic State, where hundreds of its members currently serve as fighters.
However, insiders say the jihadist movement's leadership has been "outraged" by the reported move.
Essam Barqawi, or Abu Mohammad Al Maqdissi, the former Al Qaeda spiritual leader and ISIL's most vocal critic, is currently meeting with jihadist supporters across the country to build a "consensus" over a position rejecting the ISIL movement, jihadist sources say.
After reaching a consensus among Al Qaeda followers, Maqdissi, who was recently freed after serving five years in prison, is expected to issue a fatwa criticising the ISIL and rejecting its expansion in Iraq and elsewhere, according to sources within the cleric's inner circle.
Related Articles
Jun 19,2014
The Islamic State of Iraq and the Levant (ISIL) has been implicated in a recent attack on a prominent Al Qaeda supporter in Jordan, raising concerns of more friction between radical Islamists in the country.
Jul 17,2014
Five Jordanian Islamists have filed with an internal court a case against a leading Al Qaeda cleric for comments critical of the Islamic State of Iraq and the Levant (ISIL) in the latest chapter of rising tensions between supporters of the rival jihadist groups.
Jan 13,2014
UN Secretary General Ban Ki-moon urged Iraqi leaders to address the "root causes" of a surge in bloodshed as security forces clashed on Monday with gunmen in violence-racked Anbar province.
Newsletter
Get top stories and blog posts emailed to you each day.