You are here
Enthusiasts celebrate International Day of Yoga at Amman Citadel
By Dana Al Emam - Jun 23,2017 - Last updated at Jun 23,2017
Yoga enthusiasts gather at the Amman Citadel on Wednesday to celebrate the third International Day of Yoga (Photo by Osama Aqarbeh)
AMMAN — Yogis and yoginis gathered at the Amman Citadel on Wednesday to celebrate the third International Day of Yoga, in an open-air yoga practice that "connects the mind, body and soul", organisers said.
Life's fast-pace and increasing stress can be better handled through practising different types of yoga, they said.
Speaking at the event, India's ambassador to Jordan Shubhdarshini Tripathi said yoga allows the individual to have control over two essential aspects of their being: breath and thoughts.
She highlighted that the Amman Citadel is "the best place to meditate" through yoga, and thanked the ministries of tourism and youth, as well as yoga studies in Amman, for their cooperation in organising the event.
The diplomat underlined that several scientific studies have proven the "phenomenal effect of the 5,000-year-old Indian practice that today unites some 300 million people around the world".
Participating in the event, Youth Minister Hadithah Khreisha said communities need to adopt practices that elevate individuals' humane traits and reflect their oneness with nature, adding that such practice have a direct influence on human interactions.
He noted that the ministry supports activities that advance discipline and promote a healthy lifestyle.
Yoga instructor Eman Suhiemat said people in Jordan have started realising the benefits of yoga over the past few years and more people have been embracing the practice.
The founder of Over the Rainbow Studio stressed that yoga allows practitioners to stretch their bodies, focus on their breathing and relax their muscles.
Rula Wardeh, a yoga instructor, said Amman is witnessing a growing number of yoga studios opening because more people are interested in yoga.
Yogi Vinayak Kuchanur, who has been practising daily over the past 20 years due to its benefits, said yoga helps create better harmony between the body, mind and spirit.
He added that there is a sense of satisfaction in being part of the "revival of an ancient practice which was once widespread in India".
Muna Ahmad, a mother of two, said she was keen to bring her children along to the yoga session so they could develop an interest at an early age.
The event included an hour-long session of several meditation and breathing exercises and yoga techniques.
Related Articles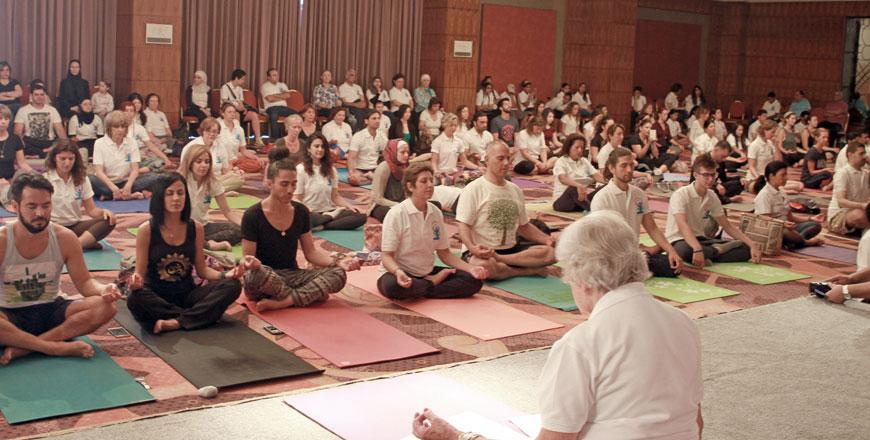 Jun 23,2016
AMMAN — Jordan celebrated the second International Day of Yoga on Tuesday with a peace march in the capital and yoga demonstrations.Jordania
Jun 22,2015
AMMAN — Through the practice of yoga, individuals are able to better communicate with their souls and control their bodies, instructors and
Jun 21,2016
CHANDIGARH, India — Millions across India on Tuesday celebrated the International Day of Yoga, the country's signature cultural export, with
Newsletter
Get top stories and blog posts emailed to you each day.