You are here
Edraak.org launches new platform for school learners, teachers
By JT - Jan 27,2018 - Last updated at Jan 27,2018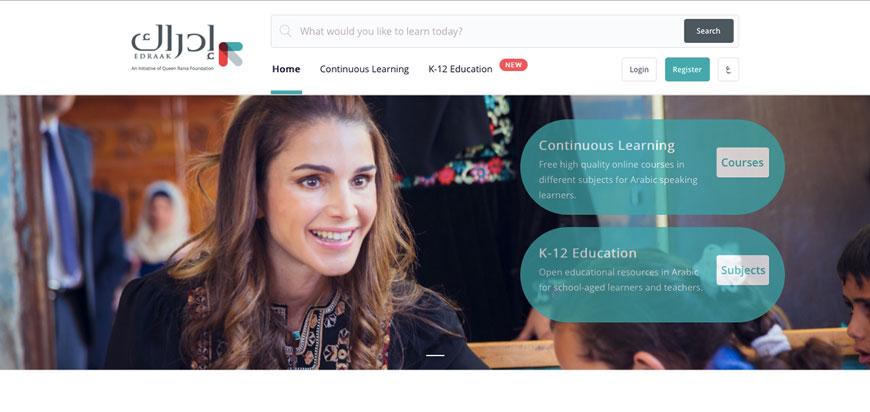 AMMAN — Her Majesty Queen Rania on Wednesday announced the expansion of Edraak.org, the leading Arabic Massive Open Online Courses platform for adult learners, to meet the needs of school-aged children across the Arab world, according to a statement from Her Majesty's Office.
Edraak's K-12 platform offers digital open educational resources in Arabic that are designed to align with national curricula in the MENA region. These resources can be used in and out of the classroom, reinforcing the crucial role teachers play in their students' educational journey.
Developed with the support of a $3 million grant from Google.org, and complemented with engagement from Google employees to provide product design expertise, the platform has launched with Mathematics materials for grades 7 and 9, including more than 1,200 educational minutes of bite-sized video lectures.
The e-curricula and learning resources for the rest of grades will be released over two phases by the end of this year, and other major subjects will be gradually introduced by 2020. The platform will also offer tools and resources for parents and educators, empowering them to guide children's learning journey.
The new platform offers sequential learning material as well as student-centred inquiry-based learning, making it possible for students to search for specific concepts without having to enroll in a predefined learning sequence. Given the growing need to support remedial education due to conflict and unrest that have disrupted formal education in the region, the platform adopts a competency-based approach to learning, while also providing material that can be used in a blended learning setting.
Speaking at an event hosted by Google at the World Economic Forum in Davos, Switzerland, Her Majesty thanked Google.org for its commitment to the project, explaining that education is a solution capable of bringing hope and opportunity to the Middle East.
"A child denied an education isn't just a tragedy for that child; it leaves the rest of us vulnerable," Her Majesty said, adding "but the future doesn't have to be this bleak – not in this age of innovation."
Today, more than 15 million children across the MENA are out of school as a result of armed conflicts and displacement, according to UNICEF. Regional turmoil has also compromised the quality of education offered in stable host nations like Jordan, whose education system has been strained under the weight of large numbers of refugee students. Edraak's K-12 platform leverages the thoughtful use of technology and the potential of open educational resources to offer a flexible learning tool for school-aged learners so that the next generation is equipped with the necessary education to underpin a new era of economic, political and social development.
The platform will build on Queen Rania Foundation and Google.org's efforts in offline functionality and support, thereby ensuring equitable access to the region's most vulnerable children.
Edraak CEO Shireen Yacoub stated that "the new platform builds on the success of Edraak's existing platform for adult learners, which has reached over 1.5 million learners across the Arab world since its launch in 2014. Leveraging our experience in developing educational content created specifically for Arab learners, the launch of Edraak's K-12 platform advances Edraak's comprehensive goal of transforming education in the region".
"We're excited about the progress that Edraak has made in creating new open resources that will benefit Arabic speaking students everywhere," said Brigitte Hoyer Gosselink, Education Lead at Google.org, noting "platforms like Edraak help ensure that all students benefit from the potential of technology as part of their learning."
Launched by Her Majesty in 2014, Edraak is the leading Arab open education platform that aims to revolutionise access and delivery of education in the MENA region. The platform offers high quality learning opportunities for adults and school-aged learners.
Google's philanthropy, Google.org, supports non-profits that innovate to address some of the world's toughest problems. Since launching in 2005, Google.org has sought out non-profit innovators that apply radical data-driven innovation to solving the world's biggest challenges. The organisation aims to contribute towards the creation of a world that works for everyone, utilising technology and innovation to move the needle in the key areas of education, economic opportunity and inclusion.
Related Articles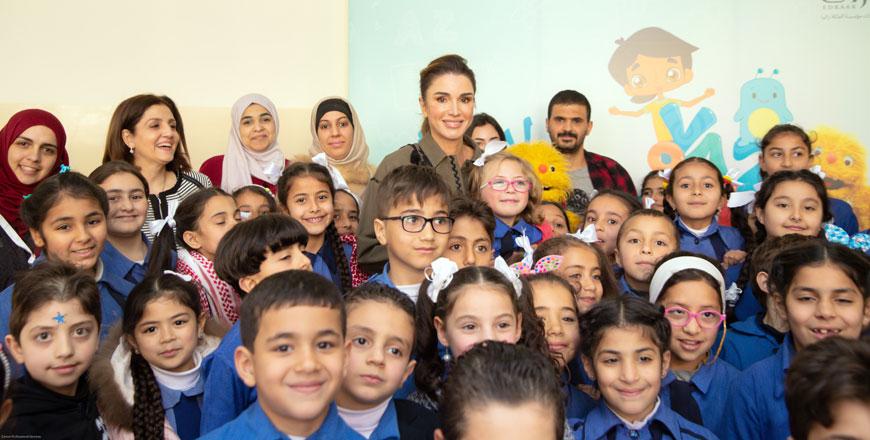 Mar 06,2019
AMMAN — Her Majesty Queen Rania on Wednesday launched the online educational platform Edraak's mathematics curricula for kindergarten to gra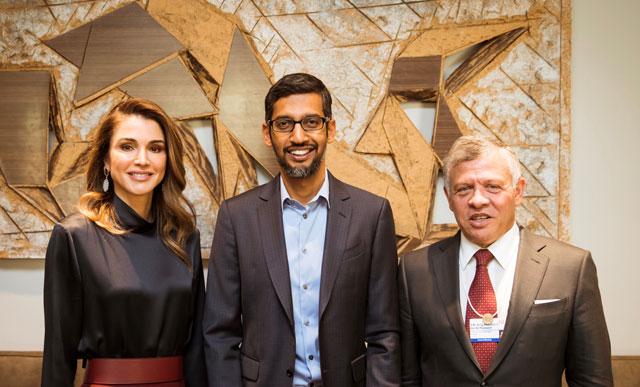 Jan 24,2018
AMMAN — Her Majesty Queen Rania on Wednesday announced the launch of a new learning platform catering to school-aged children across the Ara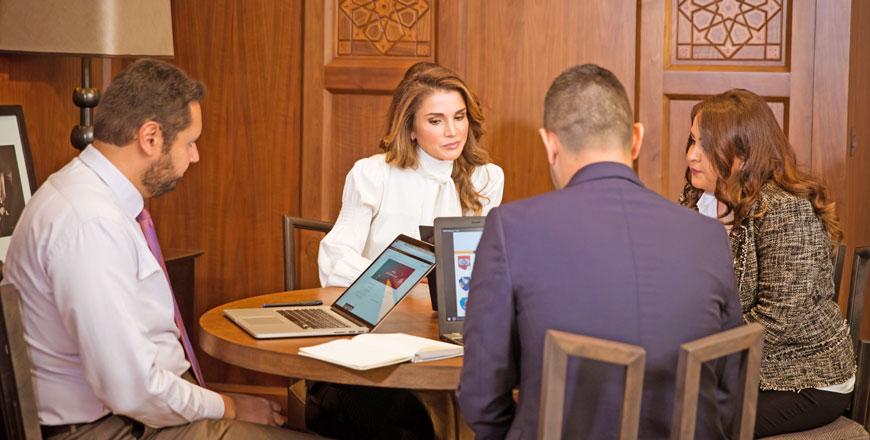 Jan 22,2018
AMMAN — Her Majesty Queen Rania is overseeing final preparations ahead of the launch of Edraak's new learning platform for school-aged child