You are here
Deputies endorse amendments to iftaa, press laws
By Petra - Dec 28,2014 - Last updated at Dec 28,2014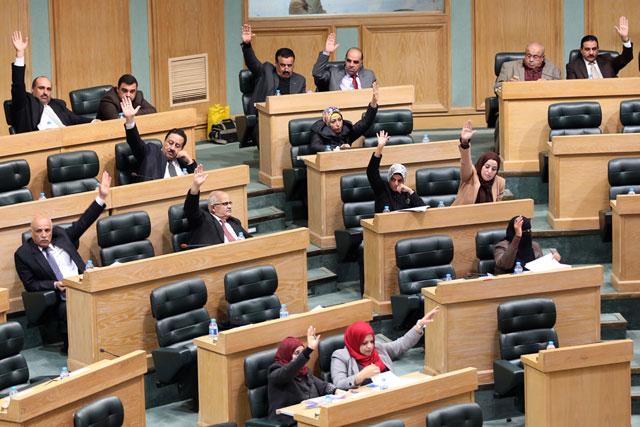 AMMAN — The Lower House endorsed several pieces of legislation during one session on Sunday.
The endorsed items included draft amendments to the iftaa (edict), press and publications, and government lawsuits laws, as well as a bill on the ratification of the International Convention for the Suppression of Acts of Nuclear Terrorism.
The draft amendments to the Iftaa Law stipulate stricter penalties to prevent the issuance of religious edicts that address public affairs but violate the law.
Although several deputies urged the government to further amend the Press and Publications Law, MP Ali Khalaileh (Zarqa, 2nd Disrict) said not endorsing the bill in its present form will lead to a "legislative vacuum", noting that the press law has seen the largest number of amendments compared to other legislation.
The latest amendments are related to a previously endorsed law on restructuring public institutions, under which the Press and Publications Department and the Audiovisual Commission were merged to form the Media Commission, Minister of State for Media Affairs and Communications Mohammad Momani said at the session.
Momani, also government spokesperson, expressed the government's openness to all discussions that boost press freedoms and national accountability.
Also during Sunday's session, the deputies turned down amendments introduced by the Senate to the appropriation bill after receiving it from deputies.
The bill will now be submitted again to the Senate. Should the Senate uphold its position regarding the introduced amendments, the Lower and the Upper Houses will hold a joint session to vote on the law.
At the beginning of the session, several deputies requested to speak about the issue of Muath Kasasbeh, the Royal Jordanian Air Force pilot captured last week by the Islamic State group in Syria.
Lower House Speaker Atef Tarawneh expressed his understanding of their concern, but requested that House not delve into this issue and to give concerned parties the chance to deal with it, to ensure the pilot's safe return.
Related Articles
May 07,2014
The Cabinet on Wednesday approved draft amendments to the Iftaa Law and submitted it to the Legislation and Opinion Bureau.
Sep 07,2020
AMMAN — His Majesty King Abdullah, the Supreme Commander of the Jordan Armed Forces-Arab Army, on Monday reaffirmed the "important role" of
Jan 14,2015
The Senate on Wednesday upheld for the second time its position on the draft appropriations law, thus constitutionally requiring the legislation to be decided in a joint session with the Lower House.