You are here
Deputies discuss amendments to anti-money laundering bill
By Raed Omari - Jan 13,2015 - Last updated at Jan 13,2015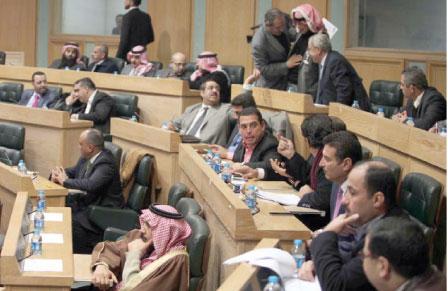 AMMAN — MPs on Tuesday renamed the draft anti-money laundering law as the draft anti-money laundering and counter terrorism financing law, citing the inseparability of the bill from anti-terror efforts.
The new amendments were introduced during the Lower House›s morning session on Tuesday, where several deputies emphasised the importance of the draft law as a legal and regulatory system primarily aiming at detecting, blocking and freezing illegal money transfers suspected to be channelled to finance terrorist activities.
During the session, which began at around 11:30am instead of 10:30am as it was originally scheduled due to lack of quorum, a majority of MPs approved an amendment to the 2007 law proposed by Deputy Rula Hroub (Stronger Jordan list), banning the gathering and securing of funds, whether directly or indirectly, and through legal or illegal sources, to transfer them to organisations or persons classified as terrorists in the Kingdom.
As amended in the government's version of the law and endorsed by lawmakers, a representative of the Anti-Corruption Commission has been included in the National Committee for Anti-Money Laundering and Counter Terrorism Financing which is headed by the Central Bank of Jordan governor.
Some MPs, including Mahmoud Kharabsheh (Balqa, 1st District), objected to the inclusion of Social Development Ministry representatives on the committee as stipulated in the government's version of the law, citing their lack of expertise in this area.
Responding to Kharabsheh, Interior Minister Hussein Majali defended the government's amendments, arguing that the Social Development Ministry has files and records on the identities and activities of all local charities and organisations as well foreign societies that have affiliations and relations with local ones.
The government introduced the new amendments to the law to be in line with international standards concerning anti-money laundering and terror-financing activities and to enable Jordan to join to relevant international organisations and conventions.
Related Articles
Jul 11,2018
AMMAN — The Registry for Societies has recently ratified a policy document on anti-money laundering and countering financing
Jan 18,2015
The Lower House on Sunday passed the draft anti-money laundering and counter-terrorism financing law, imposing a five-year prison term with hard labour on those laundering criminal cash flows as well as money generated by crime.
Mar 05,2015
The Senate on Thursday returned four bills to the Lower House with proposed amendments and approved four other draft laws as referred from deputies.
Newsletter
Get top stories and blog posts emailed to you each day.