You are here
Demand for poultry, groceries rises sharply as Ramadan beckons
By Dana Al Emam - Jun 15,2015 - Last updated at Jun 15,2015
The Ministry of Industry, Trade and Supply, and merchants are warning consumers against overstocking as it leads to a rise in prices (Photo by Amjad Ghsoun)
AMMAN — Jordanians started preparing for Ramadan this week, causing a "remarkable" increase in demand for poultry products and grocery items, according to sector insiders.
The demand for poultry products, especially chicken, increased by 40 per cent in the past few days, with sales increasing from 500 to 700 tonnes per day, Abdul Shakour Jamjoum, president of the Jordanian Poultry Producers Union, told The Jordan Times on Monday.
"The demand increases significantly in the three days before Ramadan and the first three days of the month as consumers fear that merchants might manipulate prices, so they rush to buy and store large amounts of meat," Jamjoum said.
Ramadan, the ninth month of the Islamic lunar calendar, when Muslims abstain from food and drink from dawn to sunset, is scheduled to start on Wednesday or Thursday depending on the sighting of the crescent moon.
Food and beverage consumption rises considerably during the fasting month due to a change in eating patterns.
However, the rise in demand harms consumers as it pushes up prices.
"A single kilogramme of live chicken was offered for JD1.5 a few days ago, while today [Monday] it stood at JD1.65," Jamjoum added, noting that people who stock up on commodities negatively affect "moderate" consumers and the entire sector.
Foodstuff Traders Association (FTA) President Khalil Haj Tawfiq predicted a shortage in fresh vegetables and poultry during Ramadan due to the "lack of government coordination with the private sector in light of the increased demand".
But Jamjoum refuted that possibility as chicken and red meat are available in Jordan in "large" quantities.
Haj Tawfiq highlighted the need for further cooperation between the Trade Ministry and syndicates working in the field, adding that the FTA guarantees the availability of food items all year long, not only during Ramadan.
The Ministry of Industry, Trade and Supply on Monday issued an advisory price list for 64 items, which does not help in building a partnership, Haj Tawfiq said.
"Capping prices does not solve the problem… what is needed is real partnership and specialised committees at the ministry to monitor markets," he added.
"Ramadan is marked by high demand on basic products such as vegetables, eggs and meat," Haj Tawfiq said, noting that the demand for certain food items increases by an average of 50 per cent during the fasting month compared to other days, while it drops for some other products.
Quantities of imported food in the local market are "sufficient and exceed the Kingdom's needs", according to the FTA president.
He urged consumers not to postpone their grocery shopping until Ramadan is officially announced, as this places great pressure on stores and prevents consumers from comparing offers and discounts at various shopping outlets.
The demand on basic food items and grocery products increased by 25 per cent as of Monday afternoon, according to Mahmoud Rababaa, deputy director general of Sameh Mall, which has 13 branches around Jordan.
Citing stability in prices, with a "high" demand on promotion offers, which were made possible by sufficient stocks of food items, he said the demand on basic commodities is similar to previous years.
The Trade Ministry reiterated that all food items were available at stable prices.
"The ministry has set a plan to guarantee the availability of food items to avoid any price hikes, as the demand on food increases during Ramadan," Trade Ministry Spokesperson Yanal Barmawi told The Jordan Times Monday, adding that the ministry will monitor market prices.
Furthermore, he underscored the local market's ability to cover consumers' needs of poultry and vegetables.
"We call on consumers to buy what they need in reasonable amounts, as the increase in demand causes hikes in prices," Barmawi said, adding that a "large" number of shopping centres are offering discounts on food items.
He noted that the ministry checked the availability of food items at the Civil Service Consumer Corporation (CSCC) and the Military Consumer Corporation.
CSCC Director General Salman Qudah said preparations for Ramadan started four months ago to increase stocks of goods that are available in the market all year round.
In a statement e-mailed to The Jordan Times, Qudah added that prices at the CSCC are 10-15 per cent lower than in the market, highlighting the stability of prices at the corporation's 68 branches across the Kingdom.
Related Articles
Jul 16,2015
AMMAN — A total of JD350 million was spent on food items during Ramadan across the Kingdom, a sector leader revealed Thursday.This number in
May 31,2017
AMMAN – The Consumer Protection Society (CPS) on Tuesday launched a campaign to boycott chicken after the "unjustifiable" increase in their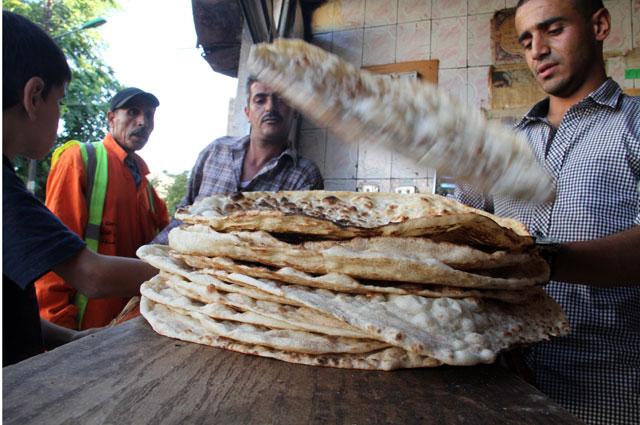 Jun 28,2016
AMMAN — Muhannad Abu Hija says he paid higher prices for fresh meat last Ramadan, a sentiment echoed by consumers across Jordan. Vegeta
Newsletter
Get top stories and blog posts emailed to you each day.