You are here
Darat Al Funun receives Jerusalem Award for Culture and Creativity for Arab world
By Camille Dupire - May 13,2018 - Last updated at May 13,2018
Darat Al Funun-The Khalid Shoman Foundation was established 30 years ago in Jabal luwebdeh (Photo courtesy of Darat Al Funun)
AMMAN — Darat Al Funun-The Khalid Shoman Foundation recently received the Jerusalem Award for Culture and Creativity in the Arab world, in recognition of its dedication in highlighting the Arab and Palestinian culture and heritage since its inception 30 years ago.
The accolade is awarded annually to acknowledge artistic and cultural institutions working to preserve the Palestinian heritage, and to shed light on "the importance of culture as a tool of resistance against the policies of the occupation", according to its organisers.
At the awarding ceremony, which took place on May 5 in Ramallah, Minister of Culture Ihab Bseiso said: "This prize represents the essence of the spirit of Palestine through its creators and artists. It is the Palestine we believe in, the most beautiful Palestine we want. The great number of artists continuously shows that our people cannot be broken or defeated, no matter how powerful the occupation and its policies against Palestine are."
Luma Hamdan, managing director at Darat Al Funun, voiced her pride to see the foundation's work recognised at such a high level. "This award is an incredible recognition for our overall work in support of artists from Jordan and the Arab world. In 2017, as we marked the 100th anniversary since the Balfour Declaration, we organised a year-long programme of exhibitions, talks and other cultural events showcasing Palestinian history and cultural heritage under the title 'Falastin Al Hadara' ['The Civilisation of Palestine' in Arabic]," Hamdan told The Jordan Times at the foundation.
In addition, Darat Al Funun recently held a one of its kind programme curated by Palestinian artist Khaled Hourani in four different cities across Palestine — Ramallah, Jerusalem, Bethlehem and Gaza — which "greatly contributed to the acknowledgement by the Jerusalem award", Hamdan said.
The programme, which included art exhibitions, video film screenings, a display of Darat Al Funun's publications, as well as seminars, aimed to "bring a part of Darat Al Funun" to Palestine, according to the managing director, who recalled how the foundation started off as "a refuge for artists from the war torn countries in the region since 1988".
"Darat Al Funun was established 30 years ago, with a vision to preserve the cultural, archaeological and architectural heritage of Jordan through the rehabilitation of various buildings dating back to the twentieth century," Hamdan remembered, adding that the foundation currently counts six main buildings, "homes for the arts for emerging and established artists from Jordan and the Arab world as a whole".
"Late Khalid Shoman's wife, Suha Shoman really created this place out of love and passion for the art and its accessibility to the local community. She always sought to make it a meeting place, a kind of 'hub' for artistic experimentation and critical discourse," she continued.
The foundation is currently displaying the work of 28 artists from Jordan and the region, as part of the first iteration of its three phased exhibitions to mark Darat's 30th anniversary.
"This exhibition comes following an open call we launched last year, inviting emerging and established artists' creations as inspired by the words of famous Palestinian author Mahmoud Darwish in his poem 'Truth is black, write over it with a mirage's light'," Humdan explained, noting that "we aim to celebrate all those who believed in our vision and who accompanied us on our journey. This includes both internationally famous artists such as Joana Hadji thomas and Khalil Joreige, winners of the 2017 Marcel Duchamp Award, and the new generation of artists, who are engaged witnesses of the present and an inspiration for the future."
The exhibition, which covers the walls of Darat's Main Building, Blue House, The Lab and Beit Al Beiruti, former house of late King Hussein's mother Queen Zein, includes a variety of media such as paintings, screenings and sound installations, among others.
"We received a tremendous response, with over 100 applications, including one as young as 15 years old! This first exhibition, which started on February 13 and will run through May 17, exposes the social, political and cultural issues related to various types of migration," the managing director explained.
Among the artists exhibited, Ibn Talib's "soundscape" of Amman catches the visitor's curiosity through a minimalist visual installation that drives their attention to the auditory sense.
"The artist felt like people paid very little attention to the sounds surrounding them, too focused as they are on the visual stimuli that assault us constantly," explained Joud Halawani, assistant curator at Darat Al Funun, adding "he recorded common sounds heard in Amman's daily life such as calls to prayer, birds' singing, public transportation and traffic noises, street vendors, construction sounds, among others."
The result is a bustling transcript of Jordan's capital, which invites the viewer to identify each sound through a corresponding visual, detaching themselves from the images, smells and movements usually defining the city.
The artists participating in this inaugural exhibition include Akram Zaatari, Amal Kenawy, Ayham Alsammak, Dana Kaoukji, Dana Rousan, Dina Mufti, Firas Shehadeh, Hassan Khan, Haya Abdul Hameed, Himat Ali, Hosam Omran, Ibn Talib, Isidro López-Aparicio, Jehad Al Ameri, Joana Hadji Thomas and Khalil Joreige, Marwan Rechmaoui, Mohamad Badarneh, Mohammed Zakaria, Munjed Qasim, Oraib Toukan, Rabih Mroué, Rana Al Nemr, Sahel Al Hiyari, Tala Abdulhadi, Wasim Zaid Habashneh, Yasmeen Sabri and Yasmine Alnabulsi.
Related Articles
Mar 23,2014
Like both Darat Al Funun and the Khalid Shoman Collection which it covers, this book is firmly grounded in Amman, but at the same time indicative of a regional cultural network with international outreach.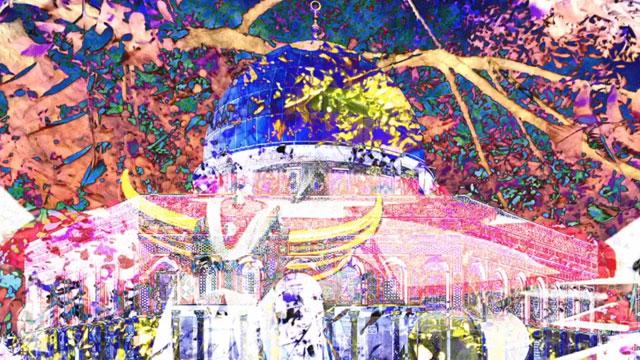 Oct 25,2018
AMMAN — Art lovers on Tuesday evening flocked to the iconic Darat Al Funun — Khalid Shoman Foundation in Jabal Luweibdeh, where they witness
Sep 25,2019
AMMAN — A platform and oasis of calm for local and Arab artists — the latter, as the history of this region would have it, often having to f