You are here
Crown Prince urges NASA-trained students to share experience with peers
By JT - May 31,2016 - Last updated at May 31,2016
HRH Crown Prince Hussein meets with Jordanian students who have been secured internship at NASA under an initiative he launched last year in Amman, on Monday (Photo courtesy of Royal Court)
AMMAN — HRH Crown Prince Hussein has urged excelling Jordanian students to benefit from internships they have been offered at the US National Aviation and Space Agency (NASA).
During a meeting with these students at Al Husseiniya Palace on Monday, the Crown Prince voiced his pride in the scientific achievements of the young people "who were the country's best ambassadors during their internships and journeys of knowledge".
He encouraged the group members to share their experiences with students at various education levels to transfer their knowledge to them.
The Crown Prince stressed that the scientific knowledge exchange experience has conveyed a good image about Jordan and the quality of education in the country in particular. "This is the kind of image we seek to send to the world about the innovative Jordanian youth," HRH Crown Prince said, as quoted in a Royal Court statement.
He listened to briefings by the students on their 10-week internships, which were part of an initiative the Crown Prince launched in 2014, initiating contact with NASA to secure training for excelling Jordanian students at the prestigious agency.
The collaboration between Jordan and NASA encompasses internships for Jordanians interested in pursuing a career in technology as well as a joint NASA/Jordanian team collaborating on building and programming a Nano satellite such as a Cubesat, according to the Crown Prince's website.
"This initiative seeks to inspire young Jordanian engineers and provides a great boost to their careers as well as opportunities for further academic training. It also supports Jordan's efforts at building a cadre of highly qualified professionals in the technology and research sectors."
The group HRH met with Monday is the first of three.
The Royal Court statement said that Jordan is one of 10 world countries that has the privilege of partnership with NASA.
For their part, the students thanked the Crown Prince for his efforts and presented the projects they worked on during the internship, including the design of submarines to test a technology to explore a Jupiter's moon called Europa wirelessly.
One of the students taking part in the project, Firas Mistarihiyeh, told The Jordan News Agency, Petra, that the submarines offer an environment to simulate that of Europa.
He said he and his colleagues involved in the experiment would share the experience with engineering students at local universities.
Related Articles
Sep 12,2017
AMMAN — Crown Prince Foundation (CPF) officials on Tuesday met with Jordanian students who finished a training programme at NASA under the "
Jun 09,2016
AMMAN — His Majesty King Abdullah on Wednesday met with the Administrator of the National Aeronautics and Space Administration (NASA) Maj.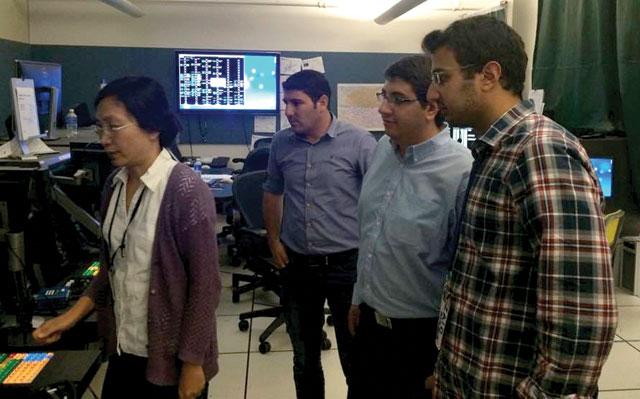 Mar 15,2015
A group of Jordanian university students will develop a CubeSat by this summer that will be flown on rockets planned for upcoming launches by NASA into the space.