You are here
Crown Prince Hussein opens innovation platform
TechWork brings together community of young makers, thinkers and entrepreneurs
By Rana Husseini - May 08,2018 - Last updated at May 08,2018
HRH Crown Prince Hussein inaugurates a youth-oriented innovative platform in Amman on Monday (Photo courtesy of Royal Court)
AMMAN — HRH Crown Prince Hussein on Monday inaugurated TechWorks, an innovative platform to address the need for youth to access the right tools to become more creative and innovative.
TechWorks is Crown Prince Foundation Initiative's (CPFI) flagship innovation platform to encourage technical education for the youth through providing the right tools, talent, resources and institutions, as well as a level-playing field on which to compete, foundation sources said.
Prince Hussein toured the facility and listened to the beneficiaries including youth, entrepreneurs, producers, industry, communities and creators, who explained their mini-projects and innovations.
Built as a national model of excellence, TechWorks is a public, society-based digital Fabrication Laboratory (FabLab) with the mission of bringing together youth, ideas and resources to unleash the power of Jordan's innovation ecosystem (see story on page 3).
"TechWorks in its essence tries to create a platform that starts with the facility, which is the FabLab, works from there to bring together a community of makers, thinkers and entrepreneurs with the focus on youth and from there it looks towards the larger ecosystem," said CPF Chief Executive Officer Tamam Mango.
The idea of a FabLab looks at how to take a maker from ideation all the way through to commercialisation, Mango explained.
At the FabLab, Mango told The Jordan Times, "you can find equipment, skill sets, training courses and our focus within the near future is on outreach to the youth of Jordan".
"We are planning to either bring youth from various parts of Jordan to benefit from the FabLab or have a mobile FabLab that tours different parts of the country to reach the youth governorates so that the FabLab equipment could be a further benefit to the economy at large," she added.
Mango urged everyone who has an interest in becoming part of the makers' community to check our website because there are programmes that go from orientation to master classes where international gurus are brought in.
"We hope to provide a platform for skillsets and 3D printing and machine learning as well as a wide variety of industries that have not been sparked sufficiently in Jordan," Mango said.
Through creating a sustainable, highly integrated ecosystem that encompasses the entire innovation process — from discovery and ideation through to design, development and commercialisation — TechWorks seeks to support young innovators on multiple levels, enabling them to design, engineer and manufacture just about anything.
It will also provide youth with access to capacity building programmes focusing on employability, entrepreneurship and innovation.
The TechWorks three dimensions include the facility, an open and accessible user-centric digital fabrication facility attracting, enabling and supporting diverse user segments.
The second dimension is the community, which is a network-centric local institution, placing infrastructure, linkages and expertise in the service of makers, innovators, researchers and students, amongst others.
The third component is the ecosystem-enriching hub that is actively seeking the establishment of a national innovation value chain by bridging ecosystem gaps and supporting commercialisation.
This approach links youth in Jordan with national and global innovation networks. TechWorks will also drive the establishment of new business models towards celebrating innovation as a building block in Jordan's economic development.
The facility comprises several sections, including a 3D Printing Centre of Excellence within the FabLab under the Crown Prince Foundation, based on a gift of His Majesty King Abdullah.
The 3D Printing Centre is a leading entity within Jordan to support the "maker" movement. Since the knowhow required to properly utilise cutting edge technologies is lacking on a national level, a 3D technology programme will be introduced to kickstart rapid capacity building.
Some of the projects that were manufactured at the TechWorks included a machine learning Driverless Car by Acacus Technologies, which is a Jordanian startup focused on advanced technologies related to "Machine Learning", seeking to establish partnerships to scale areas of knowledge, enable business at a lower cost and scout for talents.
Racing Drones by Sager 1, which is an initiative to build skills, awareness and innovation in "Unmanned Aerial Vehicle- UAV" space within the MENA region.
Classic Cars of Jordan is another project that works on redesigning old parts of vehicles by using the TechWorks 3D printer to print it.
Meanwhile, Royal Jordanian Air Academy designed a personal gadget, to be used during their work where it will support access to working tools quickly, eleminating the need to carry a large number of tools or a big toolbox.
The gadget can be used around the arm or the leg depending on user practice or work type.
Jubilee School students worked on six projects including a smart home automation system using Bluetooth technology, a smart voltmeter, a 3D printed water filter, a phone solar charger Iris mechanism and a dinosaur kit.
Related Articles
Oct 26,2017
AMMAN — A group of leading young people presented to HRH Crown Prince Hussein on Wednesday models of their creative projects hosted by FikrT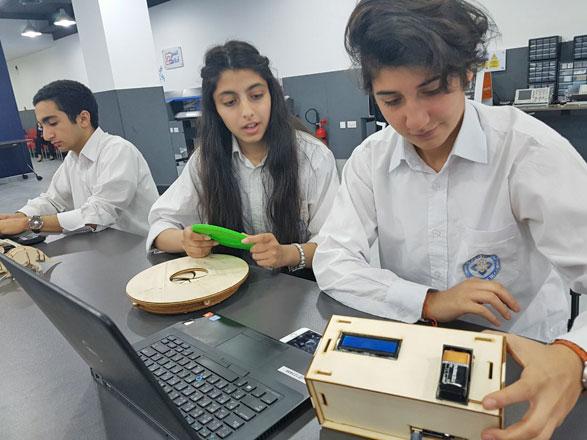 May 08,2018
AMMAN — Jubilee School classmates Raneem Saman and Malak Issa decided to make use of a newly established facility which is part of the Crown
May 10,2018
AMMAN — Two driverless cars are expected to roam the streets of King Hussein Business Park in Amman by year-end to run errands, deliver mail
Newsletter
Get top stories and blog posts emailed to you each day.