You are here
Crafts district aims to prevent demise of craft making
By Muath Freij - Oct 12,2017 - Last updated at Oct 12,2017
A craftsman working at Amman Design Week (Photo courtesy of Amman Design Week)
AMMAN — The crafts district set up as part of Amman Design Week (ADW) celebrates the craft industry and sheds light on the artistry of its community, said Dina Haddadin, the principal designer of ADW.
Haddadin noted that the crafts section needs attention since craftsmanship is a dying industry in Jordan, if not in the world.
"Because the craftspeople celebrate tradition in a way that it is only a commodity and not a necessity, designed crafts can become celebrated items," she told The Jordan Times at the venue.
The crafts district is not only designed to highlight the importance of craft making, but also aimed at reflecting on abandoned areas in the city, according to Haddadin.
"The event aims to occupy a forgotten space in Amman. Last year it was Raghdan Bus Station and now we occupy the small park next to Al Hussein Cultural Centre. This park is being demolished because of the expanding needs of parking lots and we're currently left with only a 100 metre-long park," she noted, adding that they created a temporarily structure just for the 10 days since they wanted to be cost-efficient.
A total of eight craft shops are taking part in this year's event.
"These are initiatives that work with design and communities. They empower these communities through art," she added.
Commenting on the design of the district that is rendered in a manner to resemble the "seil", or stream, of Amman buried under the Ras Al Ain area in the mid-seventies, "The Stream" is a 100 metres linear structure made up of 14 modular units.
"Seil is the area where the crafts were born in Amman, and this is where Amman started," she added.
Within its 7 metre-high interior void is a temporary pop-up craft market, curated food programmes and installations built in the form of a social space in the heart of the city, according to the event's website.
The shops are made of reappropriated steel bread cages, formerly used as cooling trays in bakeries.
Related Articles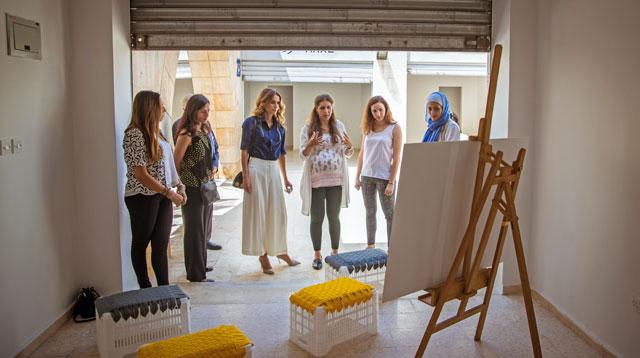 Aug 10,2016
AMMAN – Her Majesty Queen Rania checked on preparations under way for Amman Design Week (ADW) in downtown Amman on Monday and met with local
Sep 10,2016
AMMAN — As the Amman Design Week (ADW) concluded on Friday, designers, architects, and visitors voiced hope more attention would be paid to
Oct 02,2017
AMMAN — In the run-up to the launch of its annual edition that will take place on Friday, Amman Design Week (ADW) has launched a video campa