You are here
CPF panel discussion session puts focus on youth employment in digital economic sector in Maan
By JT - Sep 14,2021 - Last updated at Sep 14,2021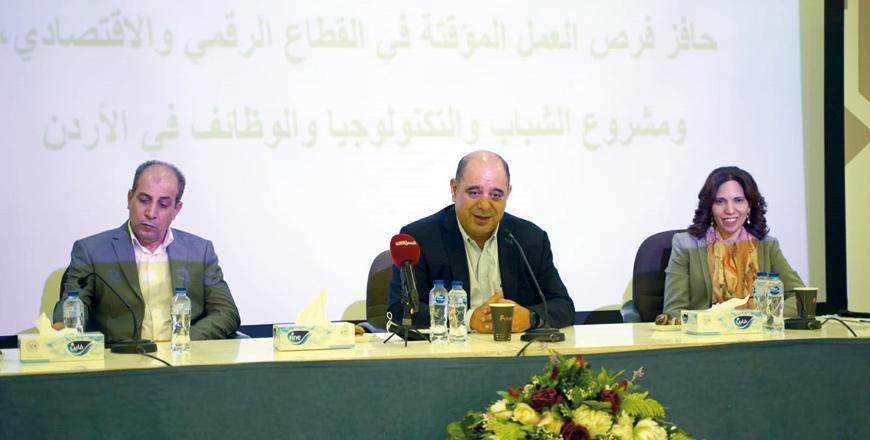 Minister of Digital Economy and Entrepreneurship Ahmad Hanandeh speaks during a discussion panel on Tuesday (Petra photo)
AMMAN — The Crown Prince Foundation (CPF) on Tuesday organised a panel discussion with youth in Maan titled "Incentives for Temporary Jobs in the Digital Economic Sector and the Youth, Technology and Jobs Project in Jordan".
Minister of Digital Economy and Entrepreneurship Ahmad Hanandeh, during the event, said that digital transformation serves as a main driver for economic and social development in the Kingdom, the Jordan News Agency, Petra, reported.
Hanandeh stressed the government's keenness to develop the digital skills of Jordanian youth through several programmes implemented under the ministry's supervision.
These programmes aim to provide training opportunities for Jordanian youth to develop their digital skills, needed for the labour market.
He also said that the ministry is currently working on several employment initiatives and programmes, namely the "Incentives for Temporary Jobs in the Digital Economic Sector" initiative, which is part of the stimulus package the government announced in late March to address the repercussions of the pandemic.
The minister noted that this initiative aims to support the growth and employment plans of entrepreneurs and start-up companies, as well as the digital transformation and ICT departments in other sectors, with a total value of JD20 million.
Hanandeh said that the "Youth, Technology, and Jobs Project" in Jordan, funded with $200 million from the World Bank, is one of the pillars of the 2021-2025 National Strategy for Digital Transformation and will help speed up the strategy's implementation through several programmes and incentives.
The minister noted that a total of 48 companies have benefitted from the project since its launch last year. He expects these companies to provide more than 5,000 jobs.
CPF CEO Tamam Mango praised the role of the Ministry of Digital Economy and Entrepreneurship in supporting the foundation's activities, specifically those implemented in Maan.
Mango said that this meeting is the first of a series of events scheduled in Maan under its pilot agenda. The pilot agenda is based on two main aspects: The first is activating the CPF's initiatives and programmes in Maan. The second is connecting with institutions and individuals and providing jobs for youth.
Newsletter
Get top stories and blog posts emailed to you each day.