You are here
Conference reviews gov't readiness to adopt AI
By Maria Weldali - Jun 27,2023 - Last updated at Jun 27,2023
Minister of Digital Economy and Entrepreneurship Ahmad Hanandeh speaks during the Artificial Intelligence Readiness Assessment Project conference in Amman on Monday (Photo courtesy of Ministry of Digital Economy and Entrepreneurship)
AMMAN — The Artificial Intelligence Readiness Assessment Project (AIRA) conference on Monday took an in-depth look at public sector's readiness to adopt AI.
Organised by the Ministry of Digital Economy and Entrepreneurship, in cooperation with the Japan International Cooperation Agency (JICA), the conference presented AIRA outputs, and introduced the "Artificial Intelligence Eco System Project" which encourages AI growth in Jordan.
The conference, which was mainly attended by representatives from governmental agencies, focused on promoting networking among partners in the government, academia, private sector and donor communities.
The AIRA seeks to assess the challenges faced by public institutions in the digital transformation process, and presents the necessary actions needed for overcoming them.
Speaking during the conference, Minister of Digital Economy and Entrepreneurship Ahmad Hanandeh said: "Artificial intelligence is a huge part of the digital transformation the world is experiencing… AI's impact will be even more significant in the next five years."
AI-driven technologies contribute to economic, social and political development, he added.
The minister noted that the project involved 18 governmental institutions, including the Labour Ministry, the Ministry of Investment and the Ministry of Energy and Mineral Resources, all of which sought to assess their respective AI readiness and craft an individualised AI strategy based on six criteria.
The criteria include the skills required for AI-driven development, data readiness, digital infrastructure, policy frameworks, analysis and integration, according to the minister, who said that over 3,000 government officials received training and attended workshops on AI.
In his keynote address to the conference, JICA Jordan Office Chief representative, Wakui Junji, said: "It is important for Jordan to establish systems and infrastructures that can keep up with emerging technologies…"
Junji also noted that the AI project is aligned with the objectives of Jordan's Economic Modernisation Vision.
The conference featured a panel discussion on the national AI strategy, the impact of AI on the various economic sectors and the value of the partner ecosystem in promoting best practices in AI development. The conference also covered the role of the youth in shaping AI-driven development.
Related Articles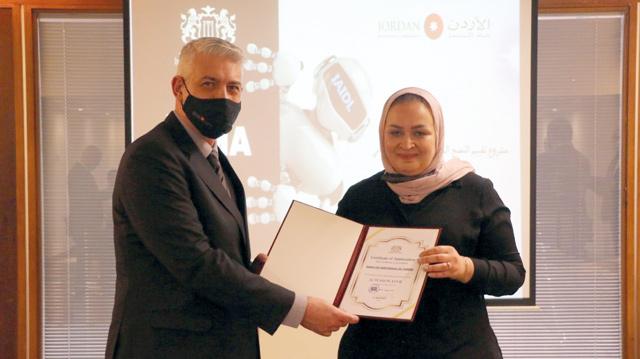 Aug 19,2021
AMMAN — The Jordan Investment Commission (JIC) is undergoing a "digital transformation journey" to keep up with the world's rapid technologi
Jul 05,2018
LONDON — London-based Babylon Health says its artificial intelligence (AI) technology, in tests, has outperformed most physicians in assessi
Jul 04,2022
AMMAN — The Japan International Cooperation Agency (JICA) signed a Record of Discussions (R/D) with the Digital Economy Ministry for the Pro