You are here
Clothing sector sees sharp decline in Ramadan sales
By Bahaa Al Deen Al Nawas - May 12,2020 - Last updated at May 12,2020
AMMAN — On April 26, the clothing sector reopened under strict health measures and working hours following more than 45 day of work suspension, and it has witnessed a sharp decline of 70 per cent in sales, compared to Ramadan last year, according to a sector representative.
"Ramadan and Eid Al Fitr are core seasons in the sector, and after the work suspension, with limited preparation along with a lot of commitments and operational costs, reflecting negatively on the market, Asaad Qawasmi, a representative of the clothing, garment and jewellery sector at the Jordan Chamber of Commerce told The Jordan Times on Tuesday.
The crisis did not allow for the distribution of clothes around the Kingdom in light of the ban on movement around the Kingdom, Qawasmi said, noting that demand is also very low due to the lack of liquidity and focus on necessities, along with food and drinks.
"The shops are still not open at full capacity, as not all workers are allowed to be present, many shops are still closed and working hours are limited," he said, noting that the shops in governorates outside the capital that have not received their merchandise are still unable to work.
"We depend on the 10 days before Eid a lot, and we need to open shops officially and at full capacity in order to pay salaries, allowing traders to also move between governorates to distribute merchandise," Qawasmi said, adding "even when all this is done, we expect that barely 50 per cent of the market will be active".
Qawasmi said that traders can be helped in regards to reducing costs, bills and customs fees, in order to allow for some liquidity, noting that many cheques were sent back from retail traders, back to wholesale traders, hindering the entire chain of the sector.
The government allowed the sector to reopen and directly sell clothes to people, but buyers are not allowed to try on clothes in changing rooms as part of health measures to combat the spread of the coronavirus.
With the return of commercial activity to the sector, President of the Textile and Readymade Clothes Syndicate Mounir Deyeh affirmed that the syndicate has "completed the required instructions set by the ministry to protect the health and safety of both workers and shoppers, making sure that all shops set to open have adhered to specific health instructions".
Related Articles
Jul 21,2020
AMMAN — A clothing sector representative on Monday demanded allowing shops to fully open and to cancel the curfew imposed at midnight until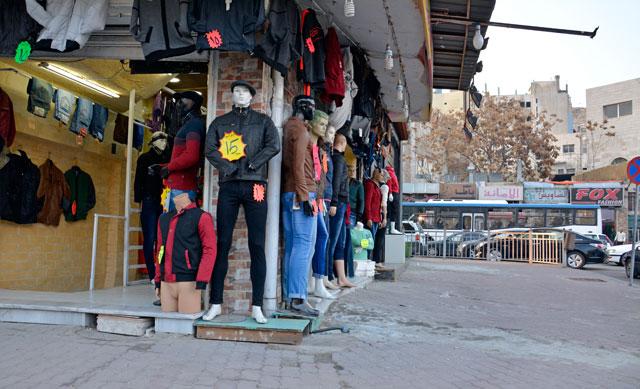 Aug 18,2019
AMMAN — Many clothing and shoe shops are expected to shut down in the upcoming period due to "the unprecedented lack of demand as well as th
Feb 09,2022
AMMAN — Online shopping sites pose a major threat to traditional retail traders, according to a sector representative who urged an immediate