You are here
CICA meeting highlights Hashemite Custodianship over Jerusalem holy sites
FM takes part in 6th ministerial meeting of CICA
By JT - Oct 12,2021 - Last updated at Oct 12,2021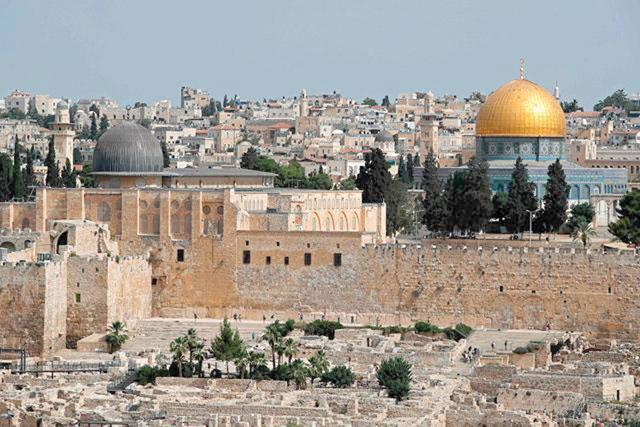 The Old City of Jerusalem with the Dome of the Rock (right) and Al Aqsa Mosque (left) (AFP photo)
AMMAN — The communiqué statement of the 6th ministerial meeting of the Conference on Interaction and Confidence-Building Measures in Asia (CICA) on Tuesday highlighted the importance of the Hashemite Custodianship over Islamic and Christian holy sites in Jerusalem, according to a Foreign Ministry statement.
Held in Kazakhstan's capital, Nur-Sultan, the meeting witnessed the participation of Deputy Prime Minister and Foreign Minister Ayman Safadi.
In a recorded address, Safadi said that the ministerial meeting could offer an opportunity to enhance cooperation among CICA members to overcome challenges related to conflicts and crises, including refugees, epidemics and terrorism.
The region deserves security, peace and stability, which it missed for decades, Safadi said. He highlighted that Palestinians have been suffering for a very long time and noted that peace cannot be achieved unless Palestinians obtain their full rights.
The occupation must be brought to an end, he added, stressing that the two-state solution that guarantees the establishment of an independent Palestinian state with East Jerusalem as its capital, on the pre-1967 lines, to live side-by-side in peace and security with Israel according to relevant international resolutions, is the only means to realise a comprehensive and lasting peace.
Highlighting the need for respecting the historical and legal status quo in the holy city, Safadi called for supporting the Jerusalemites resilience and preventing their displacement.
The Kingdom, as part of the Hashemite Custodianship over Islamic and Christian holy sites in Jerusalem, will continue to devote its utmost efforts to preserve the holy city's Arab, Islamic and Christian identity, he said.
The foreign minister also stressed the need to intensify efforts to resolve regional crises and address their repercussions, as well as to find political solutions to the crises in Syria, Libya and Yemen.
Highlighting the need for responsibility-sharing towards refugees, Safadi said that refugee hosting is an international responsibility and not limited to refugee-host communities.
Safadi also congratulated Iraq on the "successful" elections, reiterating the Kingdom's ongoing support for Baghdad's security and stability.
up
27 users have voted, including you.
Newsletter
Get top stories and blog posts emailed to you each day.