You are here
China keen on increasing ties, partnerships with Jordan — association
By Mohammad Ghazal - Apr 15,2019 - Last updated at Apr 15,2019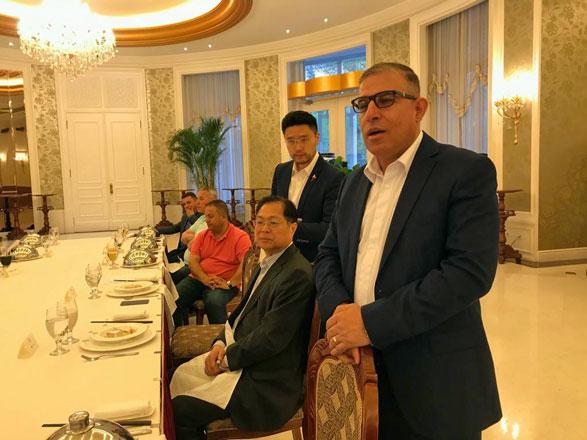 A media delegation and Jordan's Acting Chargé d'Affaires in Beijing Hamzah Omari (right) meet with the Chinese People's Association for Friendship with Foreign Countries on Sunday (JT photo)
BEIJING — China is keen to increase cooperation with Jordan in several arenas and the two countries enjoy a deep and strategic friendship, according to Xie Yuan, vice president of the Chinese People's Association for Friendship with Foreign Countries.
"We are always seeking to strengthen our ties with Jordan... there are exchange visits with friendly countries such as Jordan and we are keen on increased cooperation," Xie said at a meeting with a Jordanian media delegation currently visiting China.
General Chinese-Arabic relations are also witnessing growth, he said, adding that interest in learning Arabic in China is on the rise and there are more than 50 universities in China which teach the Arabic language.
At the meeting, Hamzah Omari, acting chargé d'affaires at the Jordanian Embassy in Beijing, said the association plays a key role in strengthening people to people cooperation.
"Ties between China and Jordan are strategic and deep rooted. We recently marked more than 42 years of diplomatic relations," the Jordanian diplomat said.
Omari also stressed the importance of the One Belt, One Road project, which was launched in 2013 and will run through the continents of Asia, Europe and Africa.
"This is a comprehensive initiative that covers many arenas and will bring great benefits," Omari said.
The Silk Road Economic Belt focuses on bringing together China, central Asia, Russia and Europe (the Baltic); linking China with the Arabian Gulf and the Mediterranean Sea through Central Asia and the Indian Ocean.
The 21st Century Maritime Silk Road is planned to stretch from China's coast to Europe through the South China Sea and the Indian Ocean in one route, and from China's coast through the South China Sea to the South Pacific on the other.
Omari said during a meeting with the delegation at the embassy that trade relations between Jordan and China are constantly growing and trade exchange reached $3.1 billion in 2018.
Chinese investments in Jordan are also growing, he said, referring to China's investment in the shale oil power plant in the Kingdom.
Newsletter
Get top stories and blog posts emailed to you each day.