You are here
Catholics celebrate Epiphany, coexistence of faiths at Baptism Site
By JT - Jan 09,2016 - Last updated at Jan 09,2016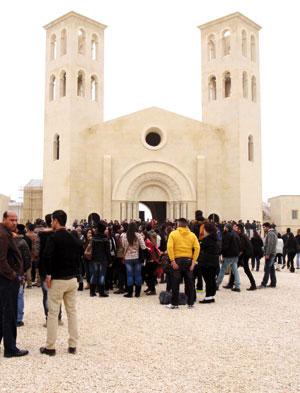 Catholic pilgrims mark Epiphany at the Baptism Site, some 40km west of Amman, on Friday (Photo by Hassan Tamimi)
AMMAN — Catholic churches in the Kingdom on Friday marked Epiphany in a ceremony at the Baptism Site, the Jordan News Agency, Petra, reported.
Deputising for His Majesty King Abdullah, Tourism Minister Nayef Al Fayez attended the Epiphany celebration (known to Greek Orthodox Christians as Theophany), which included a mass led by Latin Patriarch of the Holy Land and Jordan Fouad Twal.
Epiphany marks the revelation of Jesus Christ as the son of God through his baptism and the beginning of his public ministry, according to Christian beliefs.
Fayez said the celebration reflects the coexistence of different religions and sects in the Kingdom.
During the mass, Twal urged Christians around the world to visit the Baptism Site, where Jesus Christ was baptised by John the Baptist, and highlighted Jordan, many religious and archaeological landmarks.
He praised all institutions and directorates in the Kingdom that work to preserve the country's stability and security and its status as a role model of peaceful coexistence.
The ceremony included a press conference held by Fayez and Twal, at which the patriarch commended the intensified efforts of the Royal Commission for the Baptism Site, headed by HRH Prince Ghazi, and the Jordan Tourism Board.
In 2002, Christians commemorated the baptism of Christ at this site for the first time since its discovery in 1997, after the area was demilitarised following the 1994 peace treaty with Israel.
Since then, thousands of Christian pilgrims from around the world annually have marked Epiphany at Bethany Beyond the Jordan, some 40km west of Amman.
In 2015, the site was the fifth from Jordan to be inscribed in UNESCO's World heritage List, after Petra, Quseir Amra, Um Al Rassas and Wadi Rum.
Related Articles
Apr 07,2015
A Roche blood test to screen foetuses for Down syndrome worked far better than standard prenatal screening tests in younger, low-risk women, US researchers recently said, setting the stage for more widespread use.
Mar 08,2014
Mohammad Tayseer on Friday was crowned champion of the first round of the popular Speed Test Championship — the Kumho Speed Test — held at the Royal Automobile Club of Jordan racetrack with the participation of 41 drivers.
Feb 18,2015
The Civil Service Bureau (CSB) will hold a competitive test for 136 candidates to cover 26 vacancies in a number of ministries and public departments, bureau president Khalaf Hmeisat said Wednesday.
Newsletter
Get top stories and blog posts emailed to you each day.