You are here
British scholar unveils burial practices of Faynan communities in Neolithic age
By Saeb Rawashdeh - Aug 18,2018 - Last updated at Aug 18,2018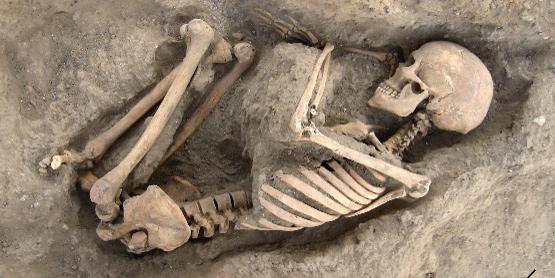 Skeletal remains found in Wadi Faynan 16 (Photo courtesy of Steven Mithen)
AMMAN — The earliest human burials found in Faynan, some 140km south of Amman, come from the early Neolithic site of WF16 and date back to 11,200 years ago, a British scholar said, noting that this discovery also indicated a high mortality rate among the local communities.
Steven Mithen, whose fields of expertise are human evolution, hunter-gatherer societies and the transition to Neolithic farming, said: "These burials include infants and children, indicating a high level of mortality within these prehistoric communities."
Wadi Faynan burials
The bodies were buried into graves cut through the floors of houses and then sealed with mud plaster, Mithen explained, adding that "most of the bodies were put into a sleeping position, on their side with their knees tucked up and their heads resting on their hands".
"Some of the graves were opened for a second burial to be inserted, and, in some occasions, bones were removed," he noted.
There is evidence that skulls were displayed within some of the houses, according to the scholar, who said that, in some cases, the dead were brought to WF16 for burial as researchers discovered packages of bones that had been wrapped in gypsum plaster and textiles made from vegetable fibres.
All of the burials were made within the settlement itself, indicating that this acted as a cemetery for the dead as well as a place for the living, he maintained, claiming "burials in the later periods at Faynan have a different character".
During the Bronze and Iron ages, these occurred in cemeteries away from the settlements themselves, with a diverse range of tombs, sometimes below substantial cairns, the scholar underlined, stressing that the largest number of burials in Faynan date to the Nabatean, Roman and Byzantine periods.
"These are found in large cemeteries of hundreds of graves, centred around the Khirbet Faynan that was the administrative centre of an industrial scale copper mining and smelting operation in Faynan," he outlined.
"The graves contained the bodies of slaves and free-workers who worked in the mines, and the support activities such as smelting, farming and trading. After the 4th century BC some of these were Christians, with their graves marked by slabs incised with a cross," Mithen said, noting that, due to their slave status, "many of the workers had challenging lives with numerous injuries and disabilities".
Although the dead were buried without any grave goods, the graves have since been dug up by looters, who damaged and removed much of the information that could have been retrieved by an archaeological excavation, the scholar stressed.
Skeletal remains
The Neolithic settlement of Wf16 dates to between 11,500 and 10,200 years ago, initially being campsite of hunter-gatherers who "probably camped at WF16 for just a few weeks each year", Mithen indicated, adding that they marked the location by burying some of their dead, effectively claiming ownership of the location.
Gradually, over many years, the hunter-gatherers began to spend longer period at WF16, reflecting the availability of wild ibex to hunt and many plants to gather, including wild barely, figs and pistachios.
"They began to build more substantial buildings out of mud plaster with sunken floors," he elaborated, stressing that, when infants, children and adults died, they were buried below the floors, perhaps after having had their bodies exposed so that fluids would drain.
"In some cases the bones from many individuals were placed into a single grave," Mithen said, noting that, in one instance, parts of the skulls from seven different individuals were buried on top of the skeleton of a single individual.
"Overall, we sense that the division between life and death was much more fluid than we accept today, with WF16 being a home for both the living and the dead," Mithen underlined, saying that the team of researchers excavated about 30 burials that contained the remains of around 40 individuals.
To place many valuables into the grave was not the characteristic of the Neolithic people, the scholar said, adding that "in some cases, large flint blades were positioned on the chest, and, in others, shell beads appear to have been with the bones, possibly from necklaces of bracelets that had been worn."
Newsletter
Get top stories and blog posts emailed to you each day.