You are here
Azraq Refugee Camp officially opened
By Elisa Oddone - Apr 30,2014 - Last updated at Apr 30,2014
AZRAQ — The government and the UN on Wednesday officially opened a new camp for Syrian refugees in Jordan that they see has the potential to become one of the world's largest refugee camps.
The Azraq Refugee Camp, located some 100km east of Amman near the eponymous town in Zarqa Governorate, will eventually be able to accommodate up to 130,000 people, sprawling over 15 square kilometres.
Around 400 refugees began arriving in Jordan's third Syrian camp on Monday, which, to date, has shelters for 25,000 and infrastructure for 50,000.
"What you see is probably one of the best planned refugee camps in the world," UNHCR Representative to Jordan Andrew Harper told a press conference in Azraq on Wednesday.
"It will also probably be one of the biggest refugee camps in the world, and what this represents is the continuing commitment of Jordan to uphold its very proud tradition of generosity to protect those who are fleeing conflict and violence," he added.
On the site of a former transit camp for displaced Iraqis and Kuwaitis during the first Gulf War, housing units are grouped in communities and have private cooking and cleaning areas.
Based on the experience from the Zaatari Refugee Camp, Azraq follows a bottom-up planning approach, beginning with the smallest social units, and preserving traditional social arrangements and structures of Syrian communities as much as possible.
Four distinct areas will be able to accommodate 10,000 to 15,000 people with its own community centre, primary health post, community police post, women- and child-friendly spaces, sports grounds and access to schools for children.
"We learnt a lot from our mistakes. We had to build Zaatari in record time; Azraq has gone instead through careful planning and attention," Foreign Minister Nasser Judeh told reporters in Azraq.
"Two years ago we stood in a similar situation at the opening of Zaatari, saying we would celebrate the closing of the camp not its opening, but the closing did not happen and we are opening a new camp today as the humanitarian emergency is continuing, leading Azraq to become the third largest refugee camp in the world once filled."
Last month, around 300 Syrians crossed into Jordan on a daily basis, according to the UNHCR, decreasing slightly from previous months where figures hovered around 600 to 800 refugees.
The Kingdom has given sanctuary to some 600,000 of the 2.5 million Syrians who have fled their country since the onset of the conflict in March 2011, UN figures show, but unofficial figures suggest they could amount to one million.
Interior Minister Hussein Majali told reporters in Azraq that the new camp is a temporary place to provide security and services.
"We use the word temporary, but temporary could last from one day to five years or more; I hope it is a short period, as people who sought refuge in Jordan deserve to go back to their countries and live their lives the way they dreamt," Majali said.
Neither the camp nor refugees' living areas have been electrified. Solar street lights will be scattered across the entire camp, and refugees have been given solar lanterns allowing them to charge their electronic devices.
Khalid Hilal Thyab from Homs is among the first refugees who arrived in the camp.
"I fled because of clashes between the government and opposition fighters. It took me 10 days to arrive in Jordan with my five children, wife and mother," Thyab told The Jordan Times.
"The camp is very safe and we haven't faced any issue since our arrival. However... there is no electricity and we have a long distance to travel to get to places like the supermarket... Our priorities are water and electricity," he added.
Harper told The Jordan Times that agencies were looking into more sustainable ways to provide electricity, as prices in Zaatari, which currently houses over 100,000 refugees, have been hovering over JD500,000 and JD700,000 on a monthly basis, also putting pressure on Jordan's scarce resources.
Among the first refugees in Azraq was a family reunited in the camp after having been separated for more than two years as its members were displaced inside the country, Norwegian Refugee Council Country Director Robert Beer told The Jordan Times.
"We don't know when Azraq will be full, as we are completely dependent on the situation in Syria. The number of refugees is going to increase as there is no expectation that the situation inside Syria will improve," Harper told The Jordan Times.
Related Articles
Feb 21,2015
Measures adopted by the authorities and UN agencies prior to and during the snowstorm that hit most of the country's governorates this weekend helped avert major incidents among Syrian refugees in the camps.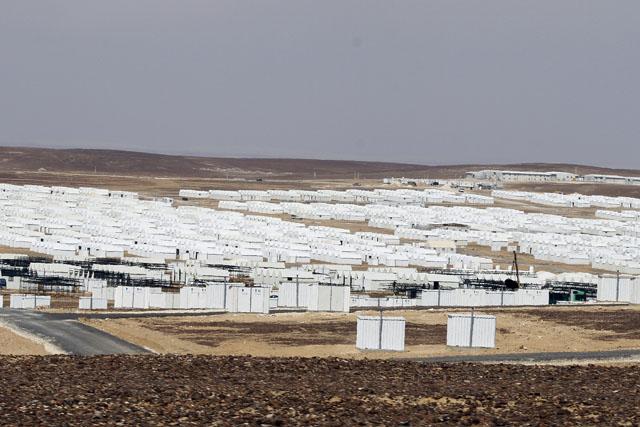 Apr 28,2014
The first group of Syrians has already arrived at the Azraq Refugee Camp, which will be officially opened on Wednesday, with a capacity of hosting up to 130,000 refugees.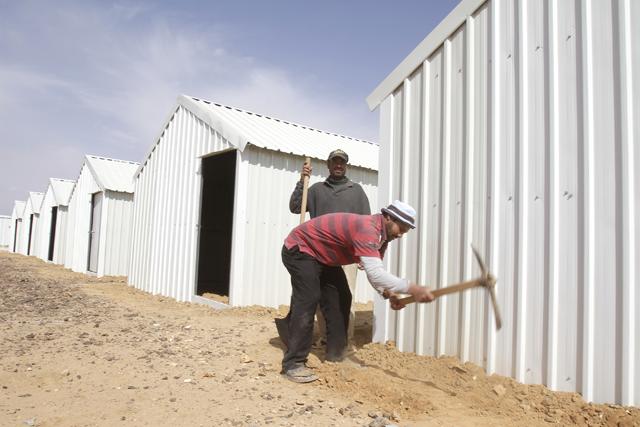 Jun 07,2014
This weekend witnessed the largest daily number of arrivals of Syrian refugees to the Azraq Refugee Camp, 100km east of Amman, Andrew Harper, the UNHCR representative to Jordan, said on Saturday.