You are here
Authorities seize two illegal drilling rigs in Mafraq, Ajloun
By Hana Namrouqa - Aug 02,2018 - Last updated at Aug 02,2018
AMMAN — Authorities on Thursday seized and confiscated two drilling rigs in Mafraq and Ajloun governorates, according to a government official, who said that those involved in the illegal drilling of the wells are being tracked down.
The Ministry of Water and Irrigation received information from an area resident about a suspected drilling of a well in Kufranjah in Ajloun Governorate, some 76 kilometres south of Amman, an official at the ministry said on Thursday.
After the team verified the reports on the illegal drilling of the well, "a technical team escorted with a security force raided a private farm, where the drilling was reported," the official told The Jordan Times.
The technical team sealed the illegal well, the official said, indicating that by the time authorities arrived, those involved in the violation had fled the scene.
"The equipment and the drilling rig were seized and confiscated," the ministry's official noted.
Also on Thursday, ministry's officials in Mafraq Governorate, 80km north of Amman, acted on information they received about a group of people drilling an illegal well at a private property.
"The team, escorted with security forces, raided the location after verifying the reports. A well was being dug there…, the equipment and the drilling rig were seized and confiscated, and those involved in the violation were identified," the official source said.
"The cases of the two water violations have been referred to the General Prosecutor for further legal action," he added.
The ministry banned the drilling of wells in 1998 to limit random pumping of water, in order to preserve aquifers from depletion and salinity.
In 2013, the ministry started a nation-wide crackdown on water violations and theft across the Kingdom.
Recent ministry figures show that over 1,063 wells have been sealed, and more than 65 drilling rigs have been seized and confiscated. In adition, more than 38,213 violations on water networks and resources have been stopped. Over 286 water-related cases are currently at court against violators, while the ministry collected JD3.45 million in cost of water pumped from illegal wells, according to the ministry.
Stiffer penalties for infractions against the water system have been introduced under the amended Water Authority of Jordan Law. Those who abuse water carriers and mains, wastewater, pumping, purification or desalination stations, cause the pollution of water resources, pipes or stations used for drinking water, dig or are involved in the digging of wells without obtaining a licence face a prison sentence of up to five years and fines of up to JD7,000.
In addition, violators of water and wastewater projects can be jailed for up to three years and fined up to JD5,000 under the amendments while all penalties are doubled in the case of repeat offences.
Related Articles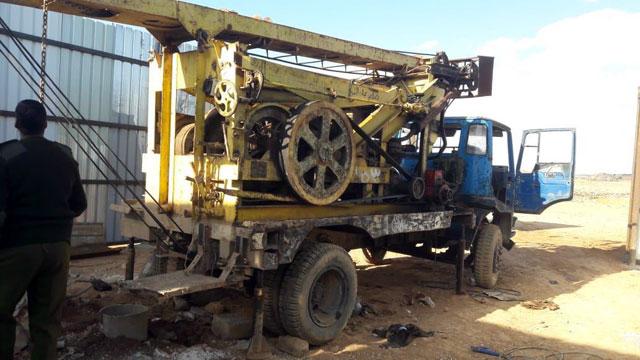 Dec 12,2018
AMMAN — Authorities on Wednesday seized and confiscated a drilling rig near Um Al Jimal archaeological site in Mafraq, according to a g
Oct 17,2018
AMMAN — Authorities arrested on Wednesday six people for allegedly drilling an illegal well in Wadi Al Sir district in west Amman, according
Nov 09,2016
AMMAN — Authorities have seized and confiscated a drilling rig that was used to dig an illegal well on the far end of Jordan's border with S