You are here
Authorities to reinforce Traffic Point System to curb accidents
589 people died in 2021 in 160,600 traffic accidents — Jordan Traffic Institute
By Rana Husseini - May 28,2022 - Last updated at May 28,2022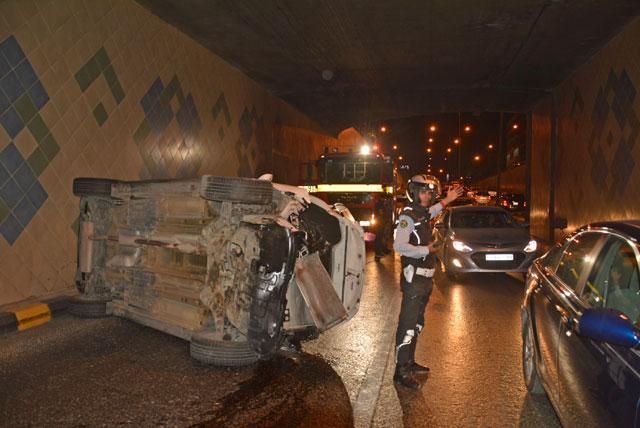 The total cost of the traffic accidents in 2021 stood at around JD320 million, according to the Jordan Traffic Institute (JT file photo)
AMMAN — The authorities will start reviewing the current Traffic Law while ensuring the proper application of the Traffic Point System, a senior traffic official said on Saturday.
Director of the Jordan Traffic Institute (JTI) Col. Bilal Awamleh told the Public Security Directorate (PSD) radio station that the law "will be reviewed by the concerned authorities".
The PSD official said that "589 people perished last year in 160,600 traffic accidents in the Kingdom".
In addition, Awamleh pointed out that 11,241 people were injured, including 737 with serious injuries, as a result of the traffic accidents in 2021.
The total cost of the traffic accidents in 2021 stood at around JD320 million, according to Awamleh.
"We are constantly monitoring the traffic situation in the Kingdom to take the necessary procedures," Awamleh stressed during the interview.
One of the procedures, according to Awamleh, is to "reinforce the Traffic Point System that was published in the Official Gazette in early 2018".
"We have instructed all the necessary departments to reinforce the Traffic Point System for motorists to curb road accidents and attempt to minimise human and financial losses," according to Awamleh.
The new system stipulates that motorists who commit certain traffic violations will have a file at the Traffic Department that includes their driving record, the points accumulated and traffic violations.
Motorists who accumulate less than 16 points, according to the new point system, will have the option of attending a rehabilitation course at the JTI, which they will be required to pay for.
Once they complete the course, eight points will be deducted from their driving record, according to the regulations.
Motorists will have their licence revoked for two months if they accumulate between 16 and 20 points and for three months if they reach between 20 to 24 points.
If motorists accumulate between 24 and 28 points, the period of licence revocation will be four months; if they exceed 28 points, then the licence will be revoked for six months.
The Point System specified 10 traffic violations that will entail one to four points.
The violations include four points for driving in the opposite direction, crossing a red light, speeding 50 kilometres over the speed limit, and driving under the influence of drugs or alcohol.
In addition, three points will be added for reckless driving, wrongful overtaking, and entering a one-way street.
Meanwhile, two points will be listed on the motorists' driving records for driving a motorcycle without a helmet for both the driver and the pillion passenger, and driving a tanker that exceeds the required weight; one point for double parking in the cities.
Newsletter
Get top stories and blog posts emailed to you each day.