You are here
Authorities to ban use of plastic bags, food containers
By Dana Al Emam - Sep 08,2014 - Last updated at Sep 08,2014
AMMAN — The Jordan Food and Drug Administration (JFDA) plans to ban the use of recycled plastic bags and containers used in direct contact with food items starting next year, an official said on Monday.
JFDA Director General Hayel Obeidat said the move seeks to eliminate the use of recycled plastic bags and containers in order to safeguard public health and address the "excessive" use of these products.
"Overusing recycled plastic in direct contact with food items transfers unhealthy chemicals to the food," Obeidat told The Jordan Times over the phone, noting that bakeries and vegetable shops will be obligated to use paper or reusable fabric bags instead of plastic bags.
Restaurants that serve meals on plastic plates will also have to use healthier alternatives, while coffee-on-the-road shops must stick to paper cups, he said.
The official underscored the environmental damages and the amount of waste these products create, in addition to exposing livestock to the danger of swallowing plastic bags.
The JFDA has sent draft regulations to the chambers of industry and commerce, in addition to the Bakery Owners Association, and is currently awaiting their notes that will be taken into consideration, according to Obeidat, who noted that they have shown their willingness to cooperate.
"The well-being of consumers is all that we care about," he said, adding that paper bags are used across the world and that the JFDA aims to put an end to the use of plastic bags to carry food by June 2015.
Environmental researcher Batir Wardam said plastic bags have an adverse effect on the environment when disposed of carelessly.
"Plastic bags do not dissolve, therefore they cause permanent pollution," he told The Jordan Times, also mentioning their emission of toxic gases when burnt.
Describing the JFDA move as "a positive step in the right direction", Wardam, an Ad Dustour columnist, said it needs to be promoted through awareness campaigns and incentives.
"Paper bags might be a bit more expensive than the plastic ones; however, bakeries should not use the price difference as a pretext to increase the prices of bread," he said, urging consumers to use reusable bags for shopping. "It is a matter of time until people get used to it."
An owner of a major bakery in the Jubeiha neighbourhood north of Amman, Hussam Abu Omar, welcomed the move, since he "does not wish to harm customers".
"However, in order for bakeries to use paper bags we need to get them at very low prices," he said, adding that all bakeries must abide by the decision.
Abu Omar said he tried to serve bread in paper bags one time a few years ago, but people still opted for plastic bags.
"They chose what they are used to," he noted.
Waiting for her bread to be bagged, Samiha Atallah said she has always wished for paper bags to replace plastic bags in Jordan.
"In all the countries I have travelled to, I saw people using paper bags to pack everything," she said.
Atallah noted that many of the stores she went to abroad were selling fabric bags in all sizes with the shop's name printed on them so that customers could reuse them for months.
In Jordan, more than three billion plastic bags are used each year, according to Environment Ministry estimates in 2012, which means that each person uses 1.6 bags per day and 584 bags a year.
According to official estimates, more than 30 million bags a year are littered across the country.
up
101 users have voted, including you.
Related Articles
Mar 02,2015
Representatives of the plastic bags industry and the bakeries sector on Monday commended the Jordan Food and Drug Administration's (JFDA) recent decision to ban the use of recycled plastic bags in direct contact with food items.
Feb 28,2015
The Jordan Food and Drug Administration (JFDA) will begin inspection campaigns on Sunday to ensure that new regulations banning the use of plastic bags for bread, fruit and vegetable purchases are being followed, JFDA Director Hayel Obeidat said Saturday.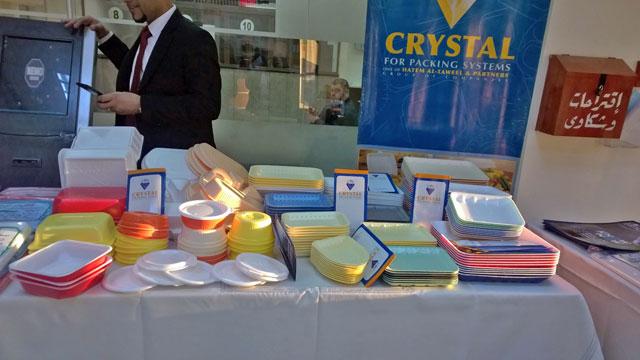 Dec 29,2014
Health and environment experts on Monday urged producers of food packaging and containers to manufacture "food grade" products to safeguard public health and the environment.
Newsletter
Get top stories and blog posts emailed to you each day.