You are here
Austria, Jordan 'have a lot in common', says ambassador
By Rayya Al Muheisen - Feb 20,2023 - Last updated at Feb 20,2023
AMMAN — Jordanian-Austrian economic relations and cooperation in the tourism sector have "improved significantly" in the past two years, according to Austrian Ambassador to Jordan Oskar Wüstinger.
In an interview with The Jordan Times on the occasion of 70 years of Jordan-Austria diplomatic relations, which was celebrated on February 16, Wüstinger said that Jordan has become a "very important" destination for Austrian tourists.
Currently, there are three airlines offering direct flights between Amman and Vienna, Wüstinger said.
"In the spring of 2022, we were able to welcome an Austrian business delegation from the field of tourism infrastructure to Jordan," Wüstinger added.
Austria sees a lot of potential for further cooperation in the tourism sector, specifically, the ambassador added.
Last year saw strong indications of trade growth between the two countries, both in terms of trade from Austria to Jordan and increased Jordanian exports to Austria. However, full-year trade figures for 2022 have yet to be published, Wüstinger said.
"We see very high demand in Jordan, and I think that Austrian suppliers have matching solutions," he added.
Every fall, Austria sends a delegation of Jordanian importers to Vienna to connect them with innovative Austrian food and beverage, according to the ambassador.
"We hope to find more Austrian products on the shelves of Jordanian supermarkets and stores very soon," he added.
Austria is aiming to "break new ground" and "think outside the box" to work on new industries and bring together innovative companies from both nations, the ambassador said.
Highlighting this goal, Wüstinger referenced the participation of an Austrian private-sector delegation at the MENA ICT Forum, held in the Dead Sea region last November. This month, another Austrian delegation from the cybersecurity and ICT sectors visited the Kingdom.
Additional delegations and events are planned around various topics, such as creative industries and ongoing activities in green tech and renewable energy.
Austria and Jordan share a rich historic and cultural heritage as well as a long-standing commitment to promoting peace, stability and prosperity in the world, according to the Ambassador.
"Our two nations have a long history of working together to address regional and global challenges, from supporting refugees and promoting sustainable development to countering terrorism and promoting human rights," the ambassador said.
"Austria and Jordan have a lot in common; our countries and populations have almost the same size, and we share the tradition of coming together to celebrate with friends, enjoying delicious food and cultural dancing," Wüstinger added.
Related Articles
Oct 27,2022
AMMAN — On the occasion of Austrian Independence Day, celebrated annually on October 26, Austrian Ambassador to Jordan Oskar Wustinger spoke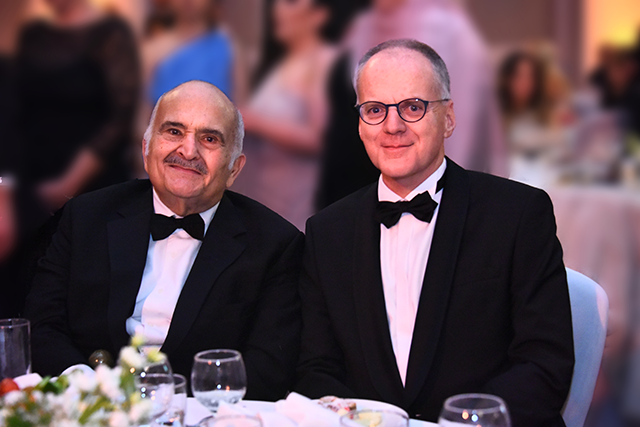 Feb 19,2023
AMMAN — The Austrian embassy in Amman on Thursday, February 16, hosted "A Night in Vienna" under the patronage of HRH Prince Hassan and with
Sep 19,2022
AMMAN — Austria's Ambassador to Jordan Oskar Wüstinger hosted the opening reception for the "r e d u c e – r e u s e – r e c y c l e" photog