You are here
Around 1.5 million cast ballots in parliamentary elections
Central Badia ballot boxes stolen then returned; district to re-vote today
By JT - Sep 21,2016 - Last updated at Sep 21,2016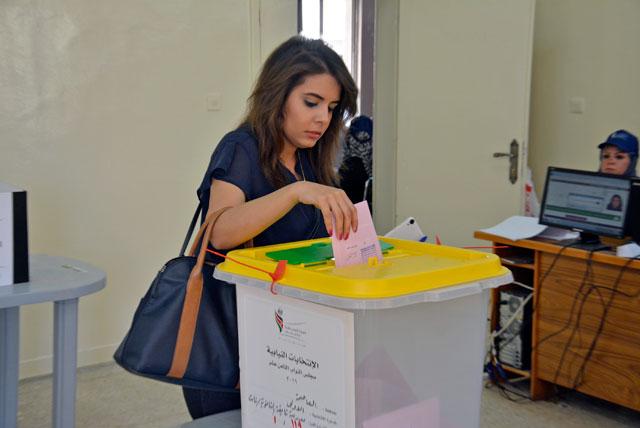 A young woman casts her ballot at a polling station in Amman on Tuesday (Photo by Amjad Ghsoun)
AMMAN — The voting process in the 2016 parliamentary elections ended at 8pm Tuesday and the counting of votes started in the first polls conducted under a new electoral system, in which 1,492,400 people took part.
A total of 1,252 candidates fielded by 226 lists are vying for the Lower House's 130 seats, of which 15 are allocated to the women's quota.
The voting was extended for one hour in 15 of the 23 constituencies.
In the Central Badia district there will be a re-vote today (Wednesday) after the district's voting process was invalidated by the Independent Election Commission (IEC).
IEC President Khaled Kalaldeh told a press conference after the conclusion of the voting process that eight ballot boxes "were stolen" in the Central Badia region and then returned, which prompted the commission to invalidate ballots in these boxes and call for a re-vote.
He said the concerned security departments will follow up on the matter.
HRH Prince Feisal, the Regent, on Tuesday visited the IEC headquarters and checked on measures taken to ensure smooth polls, Petra reported.
During a meeting with Kalaldeh, Prince Feisal commended the efforts of the commission's cadres in administering the electoral process, highlighting His Majesty King Abdullah's directives to facilitate voting.
Officials did not give percentages of the turnout, but observers said the national percentage was 37 per cent, with Amman recording the lowest at around 23 per cent and the Southern Badia the highest at around 84 per cent.
The elections were the first to be governed by the new Elections Law, which adopts a proportional electoral system.
The main new aspect in the law, noted Kalaldeh, is that registration for the elections is not optional. Therefore, the number of eligible voters rose to 4,130,142, from 2,288,043 in the 2013 elections.
There are a million Jordanian expatriate living abroad, while army and security personnel are not allowed to vote by law, he told journalists.
At a press conference, Kalaldeh said that the elections went well, with minor incidents of trouble that were dealt with on the spot, except for one major violation when the eight ballot boxes were stolen from a polling station in the Central badia district and ballots were changed before the boxes were returned to the centre.
He did not elaborate on how the perpetrators were able to snatch the boxes and return them, but said all the votes were cancelled and there will be a repeat of the voting process.
The IEC spokesperson, Jihad Momani, explained later that a committee was investigating the incident, according to The Jordan News Agency, Petra.
The IEC chief said that in total, 56 cases of violation were referred to the prosecutor general, while 29 election officials were dismissed or replaced for various reasons.
Voters in numbers
• 1,492,400 people out of 4,130,145 eligible voters cast their ballots
• 775,684 men voted compared with 716,716 women
• 362,416 voted in Amman
• 319,278 voted in Irbid
• 124,614 voted in Balqa
• 103,451 voted in Karak
• 27,768 voted in Maan
• 145,702 voted in Zarqa
• 50,391 voted in Mafraq
• 32,574 voted in Tafileh
• 50,255 voted in Madaba
• 62,403 voted in Jerash
• 59,333 voted in Ajloun
• 23,817 voted in Aqaba
• 51,023 voted in the Northern Badia
• 35,587 voted in the Central Badia
• 43,788 voted in the Southern Badia
Source: Independent Election Commission
Related Articles
Sep 24,2016
AMMAN — Supporters of former MP Hind Fayez staged a sit-in on Saturday in the Central Badia to protest what they termed as electoral fraud i
Jul 22,2017
AMMAN — The Independent Elections Commission (IEC) on Saturday announced it has finalised the design of all three ballot papers for the upco
Feb 20,2022
AMMAN — Chairman of the Independent Election Commission (IEC) Khaled Al Kalaldeh on Sunday said the commission sent technical points to the