You are here
Army destroys vehicles of 'drug traffickers' on Syria border
By JT - Apr 16,2016 - Last updated at Apr 16,2016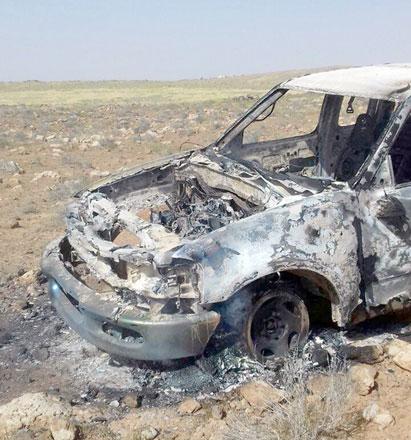 A car that came into Jordan illegally from Syria on Saturday. Border troops applied the rules of engagement followed in such situations and stopped the vehicle (Photo courtesy of Jordan Armed Forces-Arab Army)
AMMAN () — Border Guards on Saturday foiled an infiltration attempt of two cars coming from Syrian land from different directions, "in an attempt to distract the troops", said an army statement carried by the Jordan News Agency, Petra.
The troops applied rules of engagement followed in such situations, damaged and stopped both vehicles, while the infiltrators fled and crossed the border back to to Syria, the statement said.
As result, Border Guards confiscated 4,670,000 Captagon pills weighing 835kg and 4,364 palm-sized sheets of hashish weighing 1,650kg, which all were referred to the concerned authorities, Petra reported.
The World Anti-Doping Agency's recently released report indicates that Jordan remains a corridor— rather than a destination — for drug trafficking.
Commenting on the report, Interior Minister Salameh Hammad said last week that government efforts to combat narcotics are in accordance with set plans and strategies.
He said the developments in the region and the dangers at the borders of neighbouring countries which are left uncontrolled, in addition to the influx of refugees into Jordan, all led to a 25 per cent increase this year in the Kingdom's efforts to combat drugs compared to 2015.
Last week the army said Border Guards personnel seized 3,991 palm-sized sheets of hashish with a weight of 722kg and 3,592,000 Captagon pills which weighed 667.5kg in a foiled smuggling attempt.
Related Articles
Oct 17,2016
AMMAN — Border Guards on Sunday foiled an infiltration attempt from Syria into the Kingdom by a man in possession of 175,000 Captagon pills
Oct 01,2016
AMMAN — Border Guards on Thursday foiled an attempt by eight people to smuggle a large amount of drugs into the Kingdom from Syria at the no
Oct 28,2015
AMMAN — Border Guards on Tuesday foiled an infiltration attempt by a person who sought to cross into Jordan from a neighbouring country, the
Newsletter
Get top stories and blog posts emailed to you each day.