You are here
Archaeologist analyses Pella's early history through settlements
By Saeb Rawashdeh - Oct 07,2017 - Last updated at Oct 07,2017
AMMAN — It is not clear whether Pella, 130km northwest of Amman, was utterly destroyed by the Hasmonean ruler Alexander Jannaeus or if it was just captured, said John Tidmarsh, former president of the Near Eastern Archaeology Foundation at the University of Sydney.
Tidmarsh cited Jewish historian Josephus' work "Jewish Antiquities", which claimed that the city was "utterly destroyed" by Jannaeus because its inhabitants "did not promise to change to the national customs of the Jews".
However, Tidmarsh continued, in his earlier work "The Jewish War", the same author noted that Pella was captured by Janneus but not destroyed.
"On the main mound [Khirbet Fahl] at Pella there is evidence of a destruction around 80BC which must be that of Jannaeus," the archaeologist said, noting that there is virtually no subsequent Early Roman habitation.
On Tell Al Husn, located at the south of the main mound and separated from it by the Wadi Jirm, there is no evidence of destruction while there is numerous evidence of early Roman settlements, including domestic structures and early Roman pottery, which is absent from the main mound, Tidmarsh told The Jordan Times in a recent e-mail interview.
"Therefore, it seems that Jannaeus destroyed the city on the main mound [Khirbet Fahl] but not on Tell Al Husn. It is possible, however, that Husn was abandoned for several decades before being resettled while the main mound was not resettled for several centuries," he continued.
In addition to the pottery found at the site, the Hellenistic pottery from Pella and Antioch (northern Syria, modern day Turkey) is very similar in terms of forms and wares, the archaeologist claimed.
"Much of the Pella Hellenistic black-glazed ware and Eastern Sigillata ware seems to have been made at or near Antioch, and then exported to Pella [and Jabel Khalid]," Tidmarsh explained, adding that when he was working at Jabel Khalid in Syria, a Hellenistic site, "we were able to chemically analyse and compare the pottery from Jabel Khalid and Pella and also Antioch [the research team had access to the Antioch pottery stored at Princeton University in the US]."
"Chemically, most specimens from each site were similar," the researcher emphasised.
The expert now intends to continue excavations on Tell Al Husn in order to uncover more evidence of early Roman settlement.
He also plans to find evidence of the Early Hellenistic settlement at Pella:" We have already found evidence of 3rd century BC settlement on Tell Al Husn [houses, pottery and coins] but not on the main mound, which does not seem to have been settled until the 2nd century BC," he stressed.
"It is possible that, on Tell Al Husn, we may find evidence of an early garrison of Alexander the Great or one of his generals," Tidmarsh, a co-director at the excavations of The University of Sydney, stressed. Because it is so easily defensible, Husn is ideal for a military garrison or fort as is Beth Shean, west of the Jordan River and clearly visible from Pella, where evidence for a mid-3rd century BC garrison has already been uncovered, the archaeologist pointed out.
Related Articles
Dec 28,2017
AMMAN — Coming to Jordan for the first time in 1975-1978, Ina Kehrberg-Ostrasz joined the excavations at Teleilat Ghassul (five-six ki
Jul 22,2018
AMMAN — The historical site of Tell Al Husn on Thursday witnessed the gathering of a number of officials who discussed ways of boosting coop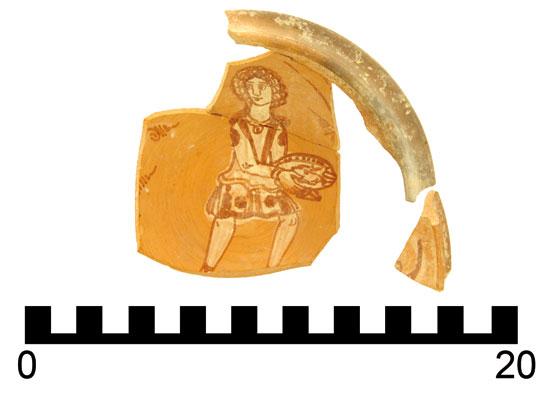 Sep 02,2020
AMMAN — From the Roman period to Early Islamic times, Jerash had a "strong and continuous" pottery production, according to two scholars who