You are here
Arab Potash Company's partnership with Chinese SDIC to bring progress, jobs — PM
'Plans set to develop fertiliser manufacturing capabilities, establish new export markets'
By JT - Mar 14,2019 - Last updated at Mar 14,2019
Prime Minister Omar Razzaz meets with the Chinese delegation headed by China's State Development and Investment Corp. President Shi Hongxiang in Amman, on Wednesday (Petra photo)
AMMAN — The government on Wednesday applauded the strategic partnership between China's State Development and Investment Corp. (SDIC) and the Arab Potash Company (APC) to develop potash manufacturing.
The SDIC acquired the Canada-based company PotashCorp's 28 per cent stake in the APC for around $500 million, the Jordan News Agency, Petra, reported.
Prime Minister Omar Razzaz, during his meeting with the Chinese delegation headed by SDIC President Shi Hongxiang, welcomed the Chinese state-owned company's partnership with the APC, Jordan's leading mining company.
Razzaz said that the APC- SDIC strategic partnership will develop the Arab Potash's fertiliser manufacturing capabilities and create jobs for Jordanians.
Razzaz also introduced the Chinese officials to various available investment projects in some of Jordan's most vital sectors, such as energy and transportation, Petra said. The meeting was also attended by Chairman of the APC's Board of Directors Jamal Al Sarayrah.
For his part, Hongxiang stressed that the SDIC, with more than 1,000 overseas investments, is interested in Jordan's investment opportunities.
He noted that Jordan's investment environment is attractive and added that the Kingdom enjoys a strategic, advantageous geographic location.
Talks with the Chinese officials also addressed the SDIC's plans to boost the APC's production and penetrating new export markets.
The delegation also visited the Jordan Investment Commission (JIC) and met with State Minister for Investment Affairs Mohannad Shehadeh.
The two parties reviewed the most important reforms leading to important developments in economic fields that helped the creation of Jordan's attractive investment environment with prudential regulations, a JIC statement underlined.
China is a top consumer of potash-based fertilisers and is also a leading APC-trade partner, Petra reported.
The SDIC is one of China's fastest-growing companies, with a registered capital of more than $5 billion, the statement said, adding that it also holds a significant share of the country's infrastructural industries' market, as well as the financial services sector, in addition to owning a number of international businesses, according to their website.
Energy Minister Hala Zawati, and Chinese Ambassador to Jordan Pan Weifang also attended the meetings, Petra added.
In 2017, PotashCorp decided to sell its stake in Jordan's APC, along with its global investments in a number of Israeli and Chilean companies.
This decision came as a result of PotashCorp's merger with Agrium Inc., a global producer and distributor of agricultural products, services and solutions.
The APC announced in February that its net profit after taxes, provisions and royalties amounted to JD125 million in 2018, recording an increase of 39 per cent from 2017's JD90 million.
Sarayrah said, at the time, that the company "has achieved significant progress towards reducing production cost per tonne", explaining that production cost of potash has decreased by 31 per cent per tonne since 2013.
Sarayrah attributed the reduction in production costs primarily to the savings achieved in water and energy use, which coincided with the record production volumes achieved in 2018, reaching 2.436 million tonnes — the highest recorded volume in the company's history.
Related Articles
Oct 24,2017
AMMAN — Canada-based PotashCorp has decided to sell its stake in Jordan's Arab Potash Company (APC), along with its global investments in Is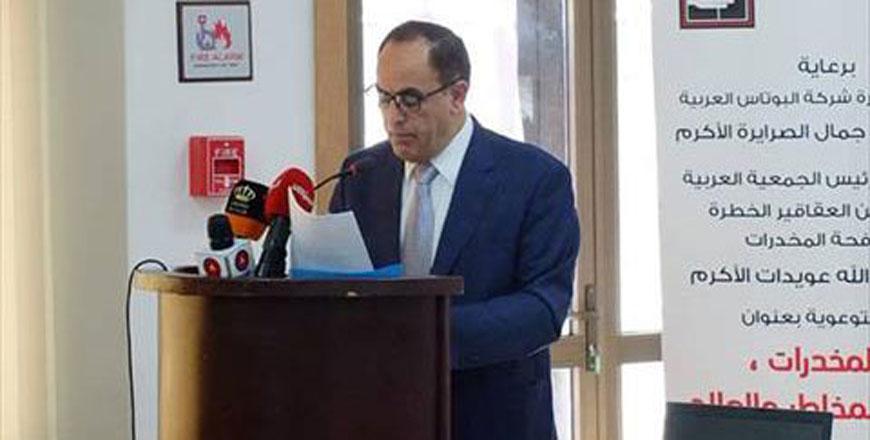 Mar 14,2019
AMMAN — The Arab Potash Company's (APC) chairman, Jamal Al Sarayrah, on Thursday accompanied a Chinese delegation, led by the president of C
Apr 22,2020
AMMAN — The Arab Potash Company (APC) and its strategic partner, the State Development and Investment Corporation (SDIC) of China, have exte