You are here
Aqaba hotel occupancy reached 95% during Eid Al Fitr holiday — sector representative
By Batool Ghaith - May 17,2021 - Last updated at May 17,2021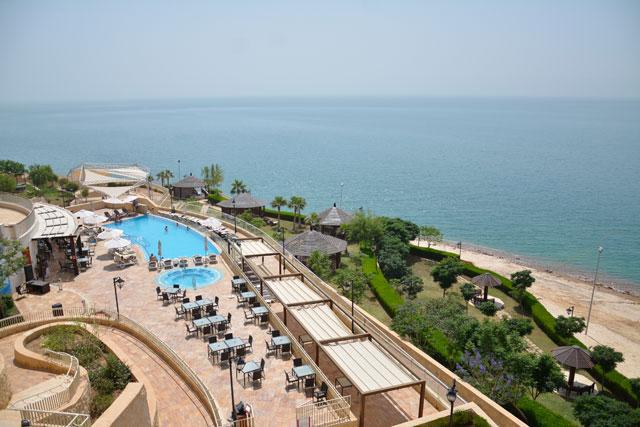 Hotel occupancy rates in Aqaba during Eid Al Fit reached 95 per cent of the permissible capacity in accordance with the defence order, president of the Jordan Hotel Association Abdul Hakim Al Hindi said (JT file photo)
AMMAN — Hotel occupancy rates in Aqaba during Eid Al Fit reached 95 per cent of the permissible capacity in accordance with the defence order, president of the Jordan Hotel Association Abdul Hakim Al Hindi said.
Hindi pointed out that hotel occupancy rates at the Dead Sea reached 85 per cent, while in Amman it was only 15 per cent, and the lowest rates were in Wadi Musa and Petra.
"People prefer to go the beach and the pools, therefore Wadi Musa and Petra were the most affected as they are archaeological sites, and there were not any tourists from abroad," Hindi told The Jordan Times on Sunday.
Hindi expected a "very good summer season" for the hotel sector in the upcoming months.
"We are anticipating a large turnout of tourists from Saudi Arabia and the Gulf region in general, as well as the return of expats. Amman and northern governorates are the most popular destinations for Gulf tourists," he added.
People are not permitted to fly outside of most Gulf countries until they have received at least the first shot of the COVID vaccine, according to Hindi.
He highlighted that almost all hotel staff are already vaccinated, and that hotels undergo a regular sterilisation procedure every single day. Health protocols and measures are strictly followed and implemented, he added.
"Around 70 per cent of hotel facilities are now operational, while gyms and spas are still shut due to the government's decision to combat the spread of the coronavirus. However, we expect good news and new decisions from the government in this regard, which will help the sector in performing even better," Hindi noted.
Newsletter
Get top stories and blog posts emailed to you each day.