You are here
Anthropologist unearths Neolithic life in Jordan
By Saeb Rawashdeh - Oct 29,2015 - Last updated at Oct 29,2015
AMMAN — Ain Ghazal (Spring of the Gazelles), near Marka in the capital, was "the Manhattan of the Neolithic period", according to an anthropology professor.
At a recent lecture titled "A Kinder, Greener Black Desert: Results of Archaeological Research of Neolithic Sites", held at the American Centre of Oriental Research, Gary O. Rollefson, professor of anthropology at Whitman College in the US, discussed the life of hunting and herding communities during the Late Neolithic period.
In its heyday (7,000 BC), Ain Ghazal was inhabited by around 3,000 people, making it one of the biggest Neolithic sites in the Near East.
However, after 6,900 BC, due to environmental degradation and a severe drop in rainfall, about 90 per cent of the population migrated from the site, Rollefson said.
New excavations in eastern Jordan indicate that some inhabitants migrated from Ain Ghazal towards the Black Desert to places such as Wadi Al Qattafi and Wisad Pools, according to the scholar.
"The new residents in the area, who herded sheep and goats, used to hunt gazelles... We found large quantities of wild and domesticated animal bones in addition to hundreds of arrowheads and butchering tools," the expert underlined.
The area between Northern Azraq and Wisad Pools was green in the Late Neolithic period (6,500-5,000 BC), which enabled settlers to enjoy successful sheep and goat herding in addition to the lucrative hunting, according to Rollefson.
One of the key attractions of the Black Desert in the Neolithic Period was rainfall five to six times higher than is witnessed there today, as demonstrated by the presence of charcoal from oak and tamarisk trees, which only grow in wetter western Jordan in the modern era.
He highlighted other aspects of daily life in the Black Desert, noting that key periods of the year appear to have been marked according to the sun's position.
When the rising sun shone through an axis in a house doorway onto a niche opposite the entrance, this indicated the summer solstice.
The presence of shells from the Mediterranean and Red seas and obsidian (volcanic glass) from eastern Turkey suggests extensive contacts between Black Desert inhabitants and other peoples, Rollefson said.
"One obsidian knife was the largest single piece of the material found in Jordan or Palestine."
Rollefson is a veteran archaeologist who has been involved in different expeditions in Jordan since 1978, including Ain Ghazal, Azraq, the Jafr Basin, Wadi Rum and now the Black Desert.
"Jordan is my second home," he said. "We intend to return to... Wadi Al Qattafi in 2016, then back to Wisad in 2017-2019."
Related Articles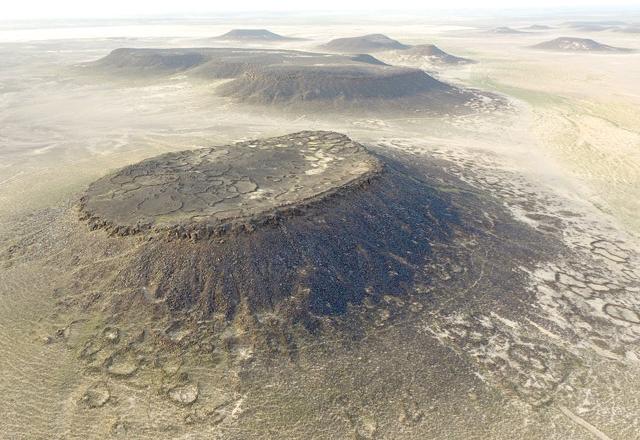 Jul 10,2017
AMMAN — After the sharp decrease of precipitation around 7000BC, all of the known large Neolithic sites such as Basta, near Pet
Oct 26,2017
AMMAN — During a lecture last week titled "Who Were the People in the Neolithic Black Desert?" held at the American Centre of Oriental Resea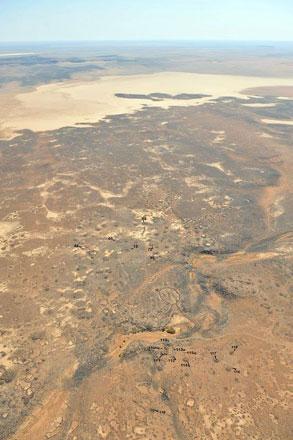 Aug 25,2018
AMMAN — "The question of why there are no gazelles represented in the petroglyphs [designs pecked into a stone surface] remains puzzling," s