You are here
AIG Celebrates 10th Anniversary of QAIA's Terminal Building
By JT - Mar 26,2023 - Last updated at Mar 26,2023
AMMAN — In commemoration of the 10th anniversary of the inauguration of Queen Alia International Airport's (QAIA) terminal building by His Majesty King Abdullah, Airport International Group (AIG) hosted a ceremony supported by Minister of Public Works and Housing and Minister of Transport, Maher Abu Al Samen.
AIG Chairman, Groupe ADP Deputy Executive Officer, Fernando Echegaray, and AIG CEO, Nicolas Claude, attended the event, along with government officials and top-level executives representing Airport International Group's shareholders and QAIA partners, airlines, concessionaires and tenants, according to a joint statement from AIG and QAIA.
Abu Al Samen delivered a speech, stating, "We are pleased to be here today to celebrate this momentous occasion, which embodies an exemplary partnership between the public and private sectors. We commend AIG's close cooperation with all concerned parties to ensure passengers from around the world enjoy a smooth and comfortable travel experience, while cementing Jordan's position as a unique tourist destination. The achievements of QAIA over the past ten years serve as testament to its regional distinction, and we hope that the successful journey of Jordan's prime gateway to the world will endure for many years to come."
Echegaray said: "This evening we gathered to celebrate the story of how an ambitious royal vision came alive in the form of a trailblazing facility that set forth global standards for every upcoming public-private project in Jordan's transport sector…On behalf of Airport International Group shareholders and Groupe ADP, I extend my sincerest gratitude to the entire airport community, as well as to the Government of Jordan for entrusting us 16 years ago with the considerable responsibility of rehabilitating, expanding and operating QAIA, and for its unwavering support ever since."
Meanwhile, Claude remarked, "We are filled with gratitude and pride as we mark the 10th anniversary of QAIA's terminal building and would like to thank Maher Abu Al Samen for lending our event his generous patronage. Since day one, AIG has shared a goal with its partners to provide every passenger with a positive and memorable customer experience and, together, we established a welcoming gateway with distinguished services deserving of the many accolades it has received."
"None of this would have been possible without our ongoing partnership with the Government of Jordan, represented by the Ministry of Transport," Claude added.
In 2007, following a transparent and open international tender, AIG was awarded a Build-Operate-Transfer concession agreement by the Government of Jordan based on a public-private partnership (PPP) scheme, responsible for rehabilitating, expanding and operating QAIA. A decade after the terminal building's inauguration, which resulted in significant service and infrastructure enhancements, AIG, its shareholders and the airport community led to QAIA's position as a multi-award-winning gateway, the statement said.
Related Articles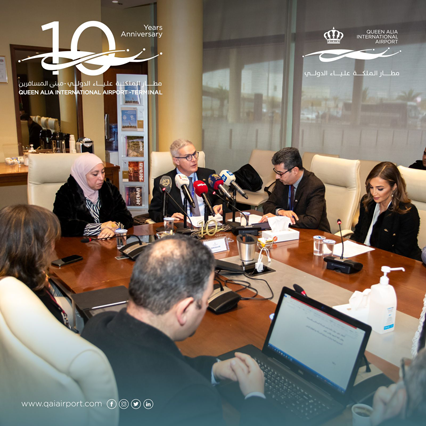 Mar 14,2023
AMMAN — Celebrating the 10th anniversary since the inauguration of Queen Alia International Airport's (QAIA) terminal building, HYPERL
Jul 23,2023
AMMAN — According to statistics from Airport International Group (AIG), Queen Alia International Airport (QAIA) welcomed 4,350,608 passenger
Oct 03,2016
AMMAN — The Queen Alia International Airport (QAIA) in August welcomed the highest number of passengers in its 33-year history, the Airport